11 days for the Doñana Challenge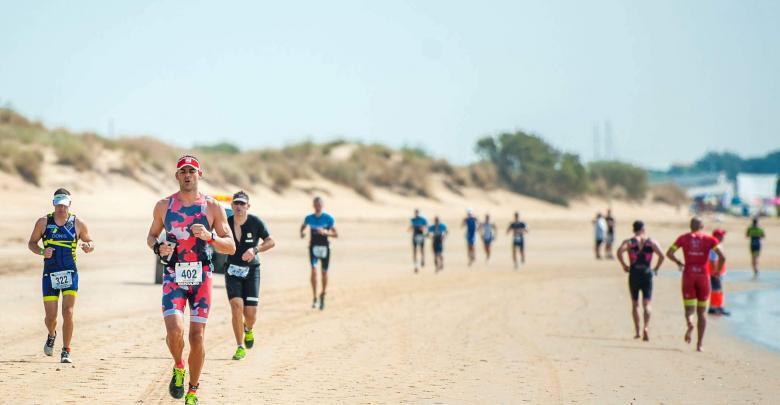 The next 21 of September will be held in Sanlucar de Barrameda the X edition of the Doñana Challenge, a competition with the change of disciplines as its hallmark
Just 10 days after the test dispute, the organization is already preparing everything for the day of the competition
Your route, your hallmark, 100 km cycling, 1 km swimming and 30 km running race
The main characteristic of Doñana Challenge is order of disciplines with which the test is disputed, since it varies with respect to a normal triathlon.
100 KM CYCLING
The competition begins with the cycling segment in a exit in platoon and drafting allowed on a very fast circuit of 100 kilometers where last year an average of 40 km / hour was reached.
The test will begin at the Playa de Bajo de Guía de Sanlúcar de Barrameda. During the neutralized exit, the cyclist squad will roll for several kilometers through the town that hosts the mouth of the Guadalquivir.
From this point there will be the official start of the race in which 100 km will be completed by bicycle, passing through Trebujena, Jerez de la Frontera, El Puerto de Santa María, Rota, Chipiona and Sanlúcar de Barrameda again.
Gps Track available in .GPX format HERE
SWIMMING: 1KM
Once the bicycle section is finished, participants must swim 1 kilometer and cross the Guadalquivir river to Punta de Malandar, in the Doñana National Park, thus linking the sporting event to the provinces of Cádiz and Huelva, one of the main reasons for the origin of the Doñana Challenge.
The mouth of the Guadalquivir presents a curious mixture of fresh and salt water tides, which make it very characteristic and spectacular for sports.
Although the short distance makes this segment seem like the most affordable test, it can be the most complicated depending on the tides. However, although in some editions, the swimming step has been performed as in a pool, in other cases, the Guadalquivir currents have played bad passes.
The average water temperature in summer is between 19,5 and 22 degrees. According to the test regulations, the wetsuit is optional.
RACE ON FOOT: 30 KM.
Undoubtedly, the true uniqueness of the event is the foot race that runs entirely through the virgin beach of Doñana National Park, the largest ecological reserve in Europe and Heritage from 1994, and where the test name derives from.
It is undoubtedly the hardest part of the test. Triathletes face a straight line of beach of 15 kilometers, without any building or urban element, only sand dunes and vegetation on one side, and the vastness of the ocean on the other. Is therefore fundamental mental resistance in addition to physical, taking into account that the same return route must be done to complete the 30 kilometers of this segment.
The finish line is located on the beach of Punta de Malandar, where the athletes are offered a first recovery supply and from there they go back to Sanlúcar de Barrameda where the rest area with food, drinks, showers and changing rooms is located. and massage service
Further information: https://www.desafiodonana.com