10 momentazos by Mario Mola this season
Mario Mola did it again and, like in 2016 and 2017, he once again won the ITU World Championship this year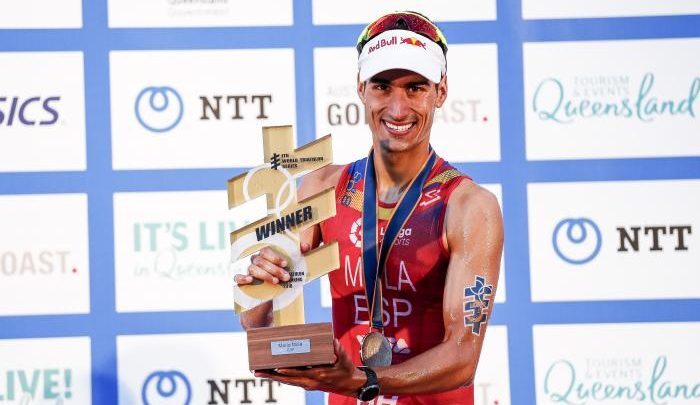 The Balearic triathlete Mario Mola he achieved his third individual title, equaling Peter Roberson and only ahead of Simon Lessing with 4 and Javier Gómez Noya with 5.
Mario Mola he did it again and just like in 2016 and 2017 he rose again ITU world champion this year, adding his third gold and his sixth medal, along with the silver of 2015 and 2014 and the bronze of 2013.
The three titles of Mola in the last three years along with the three previous ones of Noya they add an unprecedented success in an Olympic sport for Spain: to have a champion of the world during six years followed.
The season for Mola began in WTS of Abu Dhabi, where he got the second place after the South African Henry Shoeman. Later the world series of Bermunda were disputed, with the historical Norwegian triplet in charge of Stornes, Blummenfelt and Iden. Mola was fourth and placed leader.
Subsequently, the WTS of Yokohama where the Balearic obtained the first triumph of the year, consolidating its leadership. Then came the European appointments with the WTS of Leeds where Mola was second after Richard Murray and the Womb of Homburg, the only test that has always been maintained in the WTS calendar and where Mola swept, flying in the 5km of running and walking down 14 '.
Two more WTS were played in Canada before the grand final. In the tests of Edmonton y Montreal Mola took the win with solvency and reached the Gold Coast Grand Final with the biggest difference in history.
Finally the Australian event was won by Vicent Luis, followed by Mario Mola who added his third world title.
In this 2018 Mola has become the first triathlete to overcome the barrier of the 6.000 points in WTS in one season (6081) and also achieved the maximum income in history, to surpass Vicent Luis in 1.021 points (The French added 5.060).
Photo: ITU