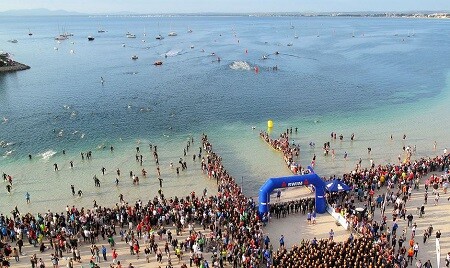 The town of Alcúdia hosts its first long distance test.
A total of 2.500 triathletes, from different 56 nationalities, will face the challenge of becoming'finishers' of the Full Ironman Mallorca
There are 13 Ironman long distance in Europe, three of them are made in Spain (Lanzarote, Barcelona and now Mallorca
El IRONMAN Mallorca It will take place in the north of the island, in Alcúdia. The circuit of 3,8 kilometers of swimming will take place in the Port d'Alcúdia. Once completed the triathletes will face the 180 kilometers of cycling in a circuit with frequent descents and climbs to the mountains of Mallorca. Finally, the 42 kilometers of running race will be held on a flat layout and four laps around the area of ​​Alcúdia beach.
Miquel Blanchart, athlete in 2013 and 2014 was second in the Ironman Lanzarote and eighth in the Ironman 2014 European Championship in Frankfurt part as one of the favorites. However triathletes of the size of Tim Don third in the IRONMAN 70.3 World Championship, Timo Bracht winner in Challenge Roth and 3º in the IRONMAN Copenhagen, the LD Spain Champion Richard Calle that comes from winning the Berga Salfish o Alejandro Santamaría winner this year of Triathlon of Vitoria Surely they will fight in this test. Miguel Ángel Fidalgo, Carlos Lopez, Jon Unanue, Ignacio Rubio y Alberto Cordinach they are the rest of Spanish participation.
In the female category we have the sole participation of Helena Herrero who got a third place in the past Guadalajara Triathlon, after what Saleta Castro announced that he would not participate in this test.
Start list: http://www.ironman.com/~/media/a92f18e0ddf84eee91094dd17d47960d/20140919%20pro%20startlist.pdf
Photo:jensdahlman.blogspot.com