45.000 runners run out of the Vienna marathon. It is suspended by the Coronavirus
Test postponed to 2021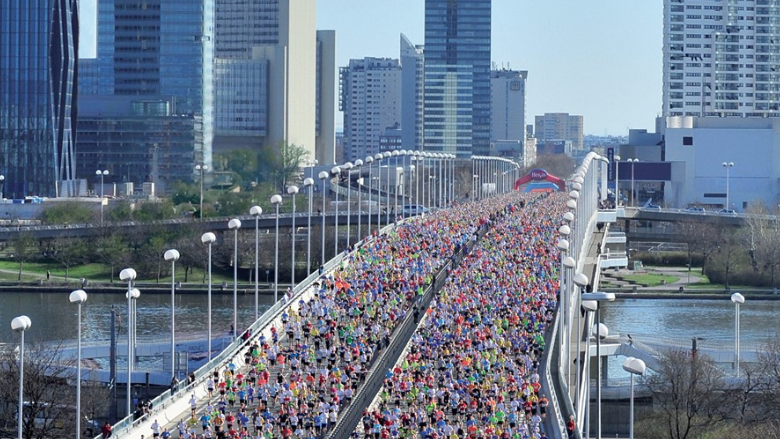 The 37th edition of the Vienna marathon, which was to be held on April 19, has been suspended as part of measures to slow down the expansion of the coronavirus,
"NOTor is there no big event with 45.000 participants from 130 countries, including 12.000 foreigners, who can adapt to the virus when, at the same time, it is necessary to have a safety distance », said the manager of the sports event, Gerhard Wehr, in a statement.
"Europe is in an exceptional situation"
«In Austria and other countries, far-reaching measures have been taken to contain Covid-19. This is the most difficult announcement we have ever had to make.«
The Vienna City Marathon 2020 will not take place.
"TheWe deeply appreciate all of our amateur runners, all of the best athletes and all of our employees who have been preparing for the event with great commitment for months.
In light of a health crisis that is affecting all countries and with a sense of responsibility towards all runners, staff and the entire population, it has not been possible to take any other measure than to suspend the race. «Says Wolfgang Konrad in the statement.
Austria has banned events of more than 500 people outdoors
The Austrian government yesterday banned all outdoor events with more than 500 people, and behind closed doors with 100 participants, and recommended minimizing social contact, in an attempt to slow down the spread of the coronavirus, which has already infected 206 people in Austria, although without causing fatalities yet
This is the full statement
We've been torn apart these last few days. Until the very last moment we wanted to organize the 37th Vienna City Marathon (VCM) and we told you so. Your feedback has strengthened us. Nevertheless we noticed how the situation has changed. Europe is in an exceptional situation. In Austria and several other countries far-reaching measures have been taken to contain Covid-19. We have put all our energy into planning this event, the realization of which has been increasingly questioned. This is perhaps the most difficult announcement we have ever had to make in regard to the VCM. But it is what it is.
The Vienna City Marathon 2020 will not take place.
This concerns all running events on Saturday, 18th April and Sunday, 19th April, the Expo Vienna Sports World in the Marx Halle as well as the VCM Carbo Loading Party in the Festsaal of the Vienna City Hall. Also yesterday the last run of the VCM Winter Running Series in the Vienna Prater, which was planned for March 29th, was canceled.
«We are deeply sorry for all our hobby runners, for all top athletes and for all our employees who have been preparing for the event with great commitment for months. In the light of a health crisis that is affecting all countries, and out of a sense of responsibility towards all runners, staff and the entire population, we cannot help but refrain from holding the VCM, »says event organizer Wolfgang Konrad.
«We wanted to make the VCM fit for Covid-19 and have looked at all areas of the event and reorganized many parts. However, there is probably no major event with an expected 45,000 participants from 130 countries, 12,000 of them from abroad, that can compete with the virus while at the same time reducing social contacts, »says VCM Managing Director Gerhard Wehr.
This step is also intended to give all runners the opportunity to orient them newly and, if possible, to cancel booked trips and overnight stays.
We do not want to get into a situation where our participants might be infected or quarantined before, during or after their participation in the Vienna City Marathon or contribute to the spread of the virus. We are also well aware that this is a very difficult time for the health stuff and we do not want to put additional pressure, strain or endanger our medical service and medical team.
In a decree of the Federal Ministry of Social Affairs, Health, Care and Consumer Protection (Measures against the confluence of large crowds of people according to §15 Epidemic Law), the holding of outdoor events with more than 500 participants and indoor events with more than 100 participants has been banned for the time being until April 3. This was the end of the planning of the event. The Vienna City Marathon works together with approximately 450 companies and partners and a total of 3,500 employees to realize Austria's largest sporting event in a long-prepared, joint effort. Many of our helpers are also students and pupils whose institutions are about to close. Stalling our participants, suppliers, sponsors and partners until the Easter holidays without any prospect of clarification of the situation would be irresponsible and unreasonable.
"We have to change our lives for a few months," said Health Minister Rudolf Anschober on 10 March when presenting the first measures to limit the spread of Covid-19. "Further measures and steps will be needed," said Federal Chancellor Sebastian Kurz on the same day on ORF: "We must assume that the situation will keep us busy for many weeks or months to come." Taking into account the decree and these statements, there is no further perspective for the VCM 2020.
All of us in the VCM organization have worked hard over the past few months, and have pushed ahead with our preparations with professionalism and passion. We have seen how you have trained and run with great commitment, at the VCM Winter Run Series, at the VCM Training Runs or elsewhere. It was great, fun, inspiring. The INEOS 1:59 Challenge in October 2019 has given a huge boost to running in Vienna and to the VCM in general. We were extremely looking forward to a big runners' festival in Vienna in April.
The preparations, the efforts and the anticipation that we all share - runners and organizers - will unfortunately not culminate in an emotional running festival. But we are convinced that we will have many more great marathon moments in the future.
We still have to get used to the situation ourselves. More than once we have been desperate in the last few days. At some point, each of us has cried eleven. We can well imagine how it looks like inside of you now. But we are sportsmen. We get up again. We look ahead. We keep running.
In the coming weeks we will comprehensively evaluate and clarify the consequences of this cancellation for the organization of the Vienna City Marathon. As soon as possible we will send you, the participants, an offer so that you can participate with pleasure in one of the next events of the Vienna City Marathon.
We ask for your understanding that this is also for us an extraordinary and unprecedented situation. Please allow us some time to evaluate all aspects and for administrative preparation.
We have also checked if it is possible to postpone the VCM to a later date in 2020, but due to numerous activities in the federal capital Vienna, there is not enough space available for a marathon. The dates for the marathon are fixed several years in advance in coordination with the city administration and other organizers. A short-term postponement is not possible in this context. Many other races and events are now postponing their staging until autumn. However, from the current perspective, nobody can say whether major events will be possible at such a date in 2020.
Thank you to everyone who has supported us on the way so far - the entire stuff, the various departments of the City of Vienna, our sponsors and above all the runners from all over Austria and the world who have chosen to run the Vienna City Marathon .
We hope above all that you and your families and friends are in good health. Adhere to the hygiene regulations and the measures to contain Covid-19.
It only remains for us to wish you a nevertheless beautiful running spring. We would be happy if you continue to be friends of the Vienna City Marathon. We will continue to be there for you with full energy and will do everything we can for a great Vienna City Marathon on 18 April 2021.
Keep on running - this is how you strengthen your immune system. Go outside. Do things that you enjoy. Do something good for someone else. Run and enjoy it. Keep reaching for the stars.
https://www.vienna-marathon.com/?newsCategorie=1&surl=aaabf0d39951f3e6c3e8a7911df524c2&level2=0#news-goto-3273