The 3ª edition of ISOSTAR EXTREME MAN Narbonne brings together about 500 triathletes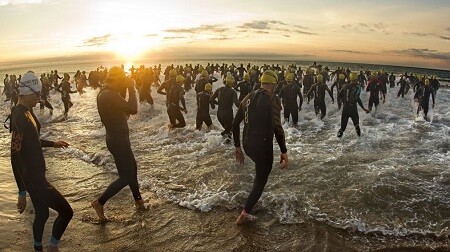 The race, the penultimate stop of the circuit before closing the season in Menorca, takes place in half and short distance.
Skimming the 500 participants, Isostar Extreme Man Narbonne prepares the dispute for its third edition, scheduled for this Sunday, September 7. One more year, the medium distance circuit Isostar Extreme Man makes a stop in the French town of Narbonne Plage, located in a privileged area surrounded by vineyards, to celebrate the penultimate date of the season before putting the finishing touch in Menorca the next September 21.
The event, which despite its short history has managed to bring together prominent national and international triathletes, is looking this year for the successor of Frederik Van Lierde (2012) and Víctor del Corral (2013), winners in the first two editions. This 2014 the favorites Marcel Zamora y Antony Costes, who will star in an interesting duel.
Two distances: short and half
Throughout the weekend, the coastal town will host about five hundred athletes who will be on the starting line to compete in one of the two scheduled distances: Half (1.900 m swimming / 85 km cycling / 21 km race on foot) and Shorts (900 m swimming / 27 km cycling / 7 km race on foot).
From Saturday morning, the triathletes will be able to get closer to pick up the numbers, as well as visit the expo area and share experiences.
Isostar Extreme Man Narbonne will start the 08 on Sunday: 45 h., Start of the short, and the 09: 30 h., Start of the half. ISOSTAR, official partner of the circuit for the second consecutive year, will contribute through its wide range of sports nutrition products, to improving the performance of all participants with the intention of improving their sporting experience.
Further information: www.extreme-man.com