5º position of Javier Gómez Noya in his first competition at the 2011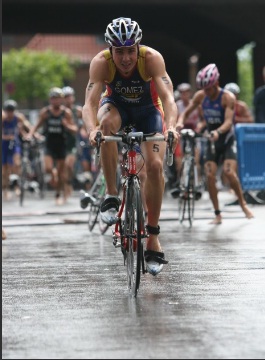 In the Australian town of Moolaoodaba, the first round of the ITU Triathlon World Cup was held at dawn on Saturday 26, in which the Spanish Javier Gómez Noya, Iván Raña and Ramón Ejeda have participated.
The victory went to Australian Brad Kahlefeldt (winner of the 2007 edition) followed in second position by fellow local Brendan Sexton, completing the podium with Frenchman David Hauss. The fourth place went to the Swiss Ruedi.
Already in the test in the swimming sector, the triathletes all came out grouped with a difference of less than 1 minute.
In the cycling segment, as expected, the group was once again unified, having a demarraje in the last lap where several triathletes obtained some advantage, it is necessary to highlight the presence of the Englishman Stuart Hayes in this break.
Already in the last segment, these triathletes were little by little reached by the best of the test, among them Javier Gómez Noya. They all held out together until the last lap, in which Kahlefeldt, Kahlefeldt and Hauss played the victory in the final stretch. The final time of the test was 01:51:52.
Gómez Noya finished the test with a time of 01:52:16 to 22 seconds behind Kahlefeldt. The second Spaniard was Ramón Ejeda in 26th place with a time of 01:53:32 and Ivan Raña finished in 31st position with a time of 01:54:05
This race is scoring for the world cup, and the next appointment will be in Ishigaki (Japan) on April 17.
Tomorrow, the 27th, the women's event will be held, in which the Spanish María Pujol and Ana Burgos will participate.
The classifications can be found here