Ainhoa ​​Murua wins sixth place in Hamburg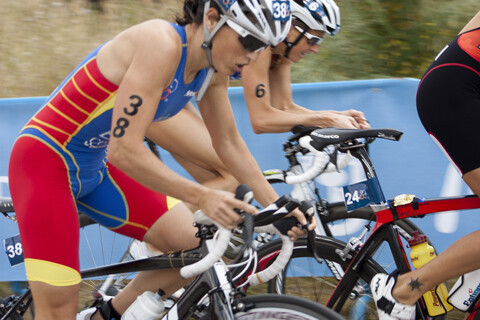 This weekend, one of the great international triathlon events was held in Hamburg, the ITU WORLD CHAMPIONSHIP DEXTRO ENERGY TRIATHLON, in which the Spanish Gómez Noya and Ainhoa ​​Murúa managed to enter the finish line in sixth position.
In a highly contested test, in which, like the men's one, has been defined in the running segment, three Australians, all of them named Emma, ​​have managed to take the top three positions on the podium.
With a temperature of 19.5 degrees, which made it necessary to use neoprene, the swimming was led by the English Lucy Hall. During the cycling segment, two groups were clearly differentiated in which the Spanish Ainhoa ​​Murúa remained in the leading group and managed to leave together with the two Australians, Densham and Moffatt from T2 to start the race on foot.
Five kilometers from the finish line, the head of the race was redefined, from which the Chilean Barbara Riveros and Ainhoa ​​Murúa fell. In a contested final sprint that was led by the Australian Emma Moffatt, 01:53:37, who won gold in the event as in 2009, the two Australians, Emma Jackson, 01:53:44, and Emma Snowsill, 01:53:44, came practically united in a final sprint, achieving silver and bronze in the Hamburg event. Murúa, 6, Damlaimcourt, 18, and Zuriñe Rodríguez, 46.
In this way, Paula Findlay, until today a favorite of the world triathlon series and who has not been able to compete in the event due to a hip injury, loses her first position in the series ranking, yielding it to the Chilean Bárbara Riveros who currently leads it. with 2497 points. Paula Findlay, second with 2400 and Andrea Hewitt third with 2317.
Next appointment of the world series: London, August 6 and 7.
Results:
http://www.triathlon.org/results/results/emma_moffatt_leads_an_all-emma_all-australian_hamburg_sweep/5985/
TOP 10:
| | | | | |
| --- | --- | --- | --- | --- |
| 1. | | AUS | | 01:53:37 |
| 2. | | AUS | | 01:53:44 |
| 3. | | AUS | | 01:53:44 |
| 4. | | NZL | | 01:53:59 |
| 5. | | WHO WE | | 01:54:32 |
| 6. | | ESP | | 01:54:33 |
| 7. | | AUS | | 01:54:43 |
| 8. | | NED | | 01:54:49 |
| 9. | | GBR | | 01:54:50 |
| 10. | | GER | | 01:54:52 |
18 Marine Damlaimcourt ESP (01: 55: 37)
46. ​​Zuriñe Rodríguez ESP (02: 00: 19)