Ainhoa ​​Murua prevails in the Mixed Cross of Zarautz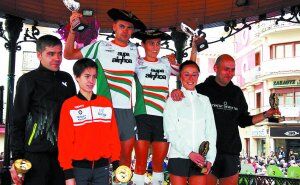 Impressive atmosphere in the mixed cross, with 526 couples that finished the test. Ainhoa ​​Murua and Jon Unanue won with a record including investing a time of 27:06 in covering a distance of 7,5 kilometers, but all the couples were champions
The winners of the last edition Iñaki Peña and Maite Arraiza were second this time, 14 seconds behind the winners. Arkaitz Goikoetxeaundia from Ibarra and Amaia Arbillaga from Tolosa completed the podium with 28:59.
The athletics section of the Club Deportivo Zarautz can be proud after seeing the result of many years of work organizing the Cross Popular Mixto and achieving that in the 33rd edition the participation record was broken and that a couple from Zaragoza managed to win the test with record included.
The morning was magnificent for sports practice and the more than 500 registered couples gathered next to the sports center to participate in this athletic festival in which men and women compete in equal numbers.
Each couple has their goals set and while the best ones compete for the classification of the first positions, the rest have the desire and the illusion of reaching the goal of Musika Plaza. 526 couples did it and they are all true champions. The atmosphere both at the start and during the tour and arrival, was impressive and there was a great sports party throughout the afternoon in Zarautz.
In addition, the local fans were able to enjoy a beautiful fight between the Zarauztarras Ainhoa ​​Murua and Jon Unanue and the winners of the last edition Maite Arraiza (Donostia) and Iñaki Peña (Barakaldo) who in the end opted for ours with a magnificent record of 27:07, record of the test. In third place were Amaia Arbillaga (Tolosa) and Arkaitz Goikoetxeaundia (Ibarra).
Without a doubt, if there was a winner in this Sunday's test it was athletics and Mixed Cross. It is not easy at all to get so many pairs in a popular event like this one but if we continue working as before (the organization was perfect) this race will continue to be in very good health. Those interested in seeing the complete classification of the test can go to the address www.herrikrossa.com.
Source: diariovasco.com