Ainhoa ​​Murua and Fernando Alarza, champions of Spain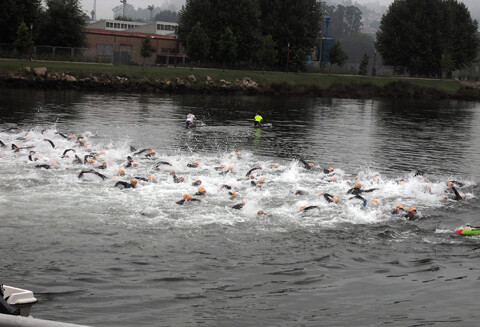 national triathletes Ainhoa ​​Murua and Fernando Alarza Spanish Triathlon Champions have been proclaimed this Sunday in the elite category -disputed together with the sub23-, in the Galician city of Pontevedra, to end the championship that took place this weekend.
The recent Olympic diploma in London, Ainhoa ​​Murua, won the Spanish title again to show off her superiority over the rest of the participants. Behind her came Carolina Routier, which is worth her to be Champion of Spain under 23 -along with Anna Godoy and Melina Alonso–, and the Galician Aída Valiño, bronze.
Despite the fact that Carolina Routier stood out in the water, always being in the top positions, she was subsequently surpassed in the cycling and running events. In the 40 km of cycling, Aída Valiño achieved the best mark in the sector. However, it would be the Gipuzkoan Ainhoa ​​Murua who, with two laps to go, would pass both to take the gold.
In this way, Ainho Murua, fourth in the European Championship, revalidates his title for the second consecutive year, after the one obtained in Vigo in 2011. Meanwhile, in the clubs, Cidade de Lugo Fluvial has taken the victory. The second place has fallen to the Ferrol Triathlon. and the third for CT Diablillos de Rivas.
FERNANDO ALARZA WINS WITH ABSENT NOYA.
In the men's category, which was held after the women's and ended the championship, Fernando Alarza was proclaimed the new Spanish Triathlon champion in the elite and sub23 categories. The test was marked by the absence of Javier Gómez Noya, silver in London. The Galician was unable to defend his title due to a second degree sprain that he suffered in the warm-up.
Francesc Godoy was in the lead at the end of the 1.5 kilometer swim. It was not like that on the bicycle, when a peloton was formed for the breakaway. However, Fernando Alarza, European bronze, saw his regularity rewarded to win gold. It is true that the foot race of Talavera de la Reina was the turning point by obtaining the best partial.
In second place came Iván Raña to leave the third position to the young Uxío Abuín. The latter was bronze in the elite, and runner-up in the sub23 category (followed by Rodrigo González). By clubs, the podium was: Arcade Inforhouse Triathlon of Santiago de Compostela, CT Diablillos de Rivas and CD Fasttriathlon; In the sub23 category: CT Diablillos de Rivas, Cidade de Lugo Fluvial and Ecosport Triathlon Alcobendas.
EuropaPress