Albert Moreno bronze medal in the European Championship of MD of Ibiza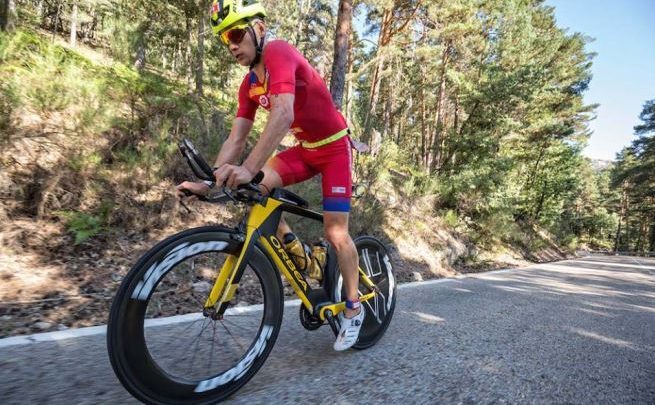 Today the European Middle Distance Championship in Ibiza has been played where the Italian Giulio Molinarii has achieved the gold medal
The test started late, I had to start the 13: 30 and did it to the 15: 00. The organization was forced to cut the cycling circuit at bad weather conditions, leaving the test in 1.900m of swimming, 45km of cycling (only one lap) and 21 km of running.
The test started with the 1.900m of swimming around the Island of Ses Rates. The water temperature was 22º and the air temperature was 16º, so it was swamped with neoprene. The British Thomas Davis and the Danish Miki Taagholt they were the first to reach the first transition with a small difference of 7 seconds over the Ukrainian Sergiy Kurocjkin and 14 about Italian Giulio Molinari. After almost 1 'the Slovenians did it Jaroslav Kovacic y Jure Majdic, the Belarusian Vailevich and the Swedish Oskar Djärv. Meanwhile Albert Moreno it was 10º to more than 2 minutes.
The 45 km of cycling were going to leave the Italian leader Molinari, that the bike was lowered with a total time of 1: 34: 14, after the 2 'it was the Danish Miki Taagholt and third was the Kovacic to 2'49. More to after more than 5 minutes a group arrived with Djärv, Goodwin among others. Alberto Moreno it was 8º to more than 6 minutes and Cristobal God 14º more than 10.
Molinari began to run with a good income while behind Moreno began a great comeback. When passing through the 8 km Molinari was leader with 1'23 »of advantage over Taagholt Over 2 'passed Kovacic y Moreno it was already 4º to 4'08 ». When passing through the 13,7 km Molinari he was still a leader, but Taagholt I was already only 50 »seconds away from him. Kovacic On the other hand, he was third by this point to 1'53 "of the leader and Moreno was fourth to 1".
Finally the victory has been for Giulio Molinari with a time of 2: 51: 35 second has been the Danish Miki Taagholt to 41 »and third has been Albert Moreno to 50 ».
Anna Noguera has been fourth
As regards the female competition, the Danish Camilla Pedersen was the first to cover the 1.900m of swimming with the Russian Olga Dmitrieva stuck to it. Anna Noguera On the other hand, it was 6ª more than 2 minutes. After the 45 km of cycling, the Swiss Nina Derron arrived first at the T2 with Camilla Pedersen stuck to it only 10 ». Anna Noguera It was 4ª to 2 minutes from the leader.
The half marathon was going to decide the test. The Belgian Alexandra Tondeur It came out very strong and passed first through the 8,4 kilometer, with the Swiss Nina Derron to 1'19 »and the British Alice Hector at 1'30 ". In this point Noguera It was 4ª one minute away from the British.
Finally, triumph for the Belgian Alexandra Tondeur with 3: 12: 20 with a great race on foot, second has been the British Sarah Lewis and has closed the podium its compatriot Alice Hector. Anna Noguera finally it has been fourth to 4'03 »
Albert photo: Facebook Rudy Proyect