Alberto González and Nuria Blanco are proclaimed champions of the Madrid Community Triathlon Cup 2011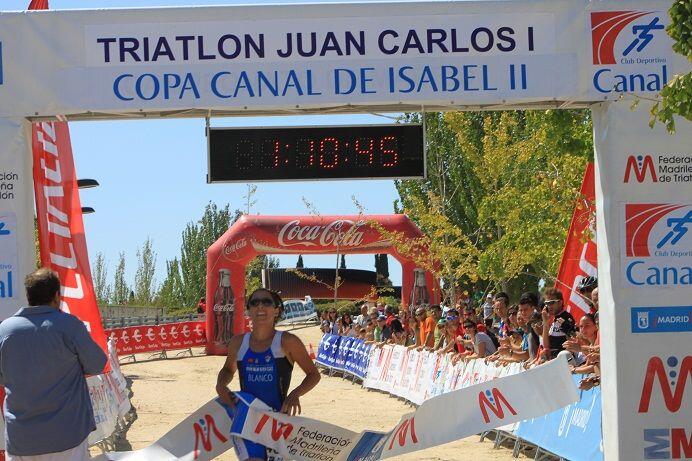 The Triathlon in Madrid you already have a name and surname, in the male category Alberto González of the Valdemoro Trival triathlon club has been proclaimed champion of the triathlon cup of the Madrid community with a total of 296 points followed by Ángel Salamanca of the CTOA with 295 and Luis Miguel Sánchez with 294.
In the female category Nuria Blanco of the CTOA, champion in 2010, has prevailed with a total of 301 points followed by Sara Bonilla of the Claveria Triathlon with 297 and Guiomar Quiñones also of the CTOA with 296 points.
This year the triathlon cup of the Community of Madrid has consisted of four scoring events, Triathlon Cros Tres Cantos, Aquathlon Villa de Madrid, Triathlon Villa de Madrid and Triathlon Juan Carlos I.
To obtain the final classification by points, it is achieved by adding the 3 best performances that the athlete has had, discarding the worst result of the four tests that make up the Triathlon Cup.
In the triathlon league of Clubs, CT Diablillos de Rivas has won with a total of 3249 points, followed by Ecosport Triathlon Alcobendas with 2893 points and in third place the Marlins Triathlon Madrid with a total of 2511 points.
The scoring events for the club league have been the Tres Cantos Triathlon, the Open Team Time Trial, the Villa de Madrid Triathlon and the Juan Carlos I Triathlon.
All the information regarding the ranking and the regulations can be found on the page of the Madrid triathlon federation in the Competitions section or in the link