Alejandro Santamaria and Tamar González seconds in the XVIII Volcano Triathlon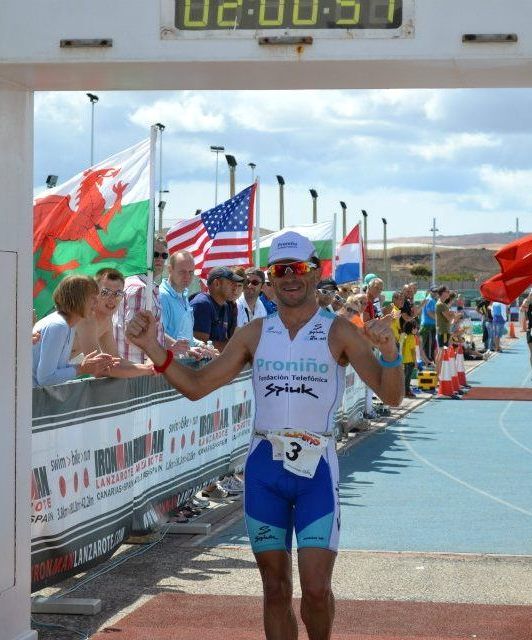 The Danish Rasmus Petraeus and the German Luisa Keller were the absolute winners of the XXVIII Volcano Triathlon, of Olympic distance, held yesterday morning, with a true demonstration of their strength.
The Spaniard Alejandro Santamaría came in second place, demonstrating his good form after winning last week at the Elche Triathlon.
A lot of foreign participation, Spanish and especially from the Canaries, who responded to the call for a test that is scored for the Fecantri Cup for federated triathletes.
Participation this year has been excellent, as has the organization. Some 332 participants took the start at 10 in the morning. The weather was favourable, with little wind, good temperatures and a loyal audience for this event.
The Dane Petraeus was used to the full from the beginning. He achieved the best partial in the 1.500-meter swimming segment, the second on the bike with a 40 km route through the roads of Lanzarote and also in the 10 km race within La Santa, which allowed him to reach the finish line comfortably although exhausted from the effort. Petraeus, winner last year, completed a time of 1 hour 58 minutes and 7 seconds. Second was the Spaniard Alejandro Santamaría, with 2 hours 51 seconds, who had the best partial in the race, which allowed him to overtake Estonian Kirill Kotsegarov in this segment, third, 8 seconds behind the Spaniard, after being the best on the bike. The best Canarian was Miguel Ángel Duque Toribio from Lanzarote, from the Tridente team, in seventh place with 2 hours. 07.25.
As for the women, an unmitigated victory for the German Luisa Keller, with the best times in each set. Keller totaled 2 hours, 20 minutes, 19 seconds. Magnificent second place for Tamar González from Lanzarote, from the Titanes club, with 2 h. 31.02 and the third for Lucía Funes from Tenerife, from the Bestiazules club, with 2 h. 31.46.
By teams, they won in the male category Lude Nonadamos, from Arrecife, with 2 h. 19.14, in the women's category the Belgian team West Girls. with 2 hrs. 37.28 and in the mixed category, the Calima Majorero club, with 2 h. 31. 53. In the disabled category, the Tri WWW team made up of Andrés Martín (swimming), David Blas (biking) and Israel Coronado (running) won.
THE PROVINCE