Alex Yee wins the Leeds Triathlon World Series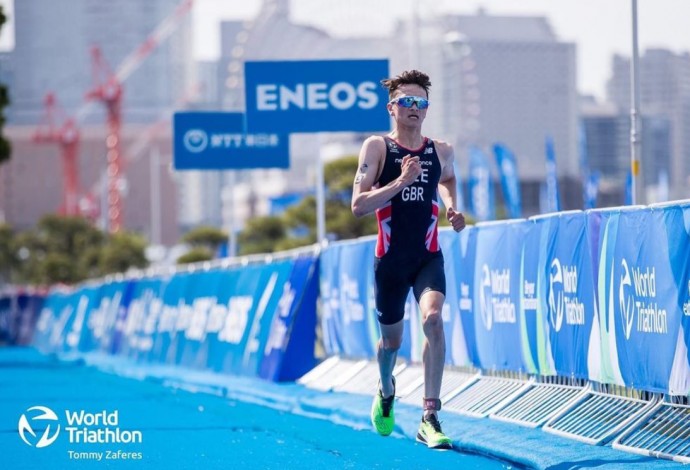 After the women's test where the Dutch Maya Kingma He has won the victory, it was the turn of the men's event, with the presence of Javier Gómez Noya and the Brownlee brothers as the main stars of the event.
In the competition where the second place of the English team was at stake for the Tokyo games we have seen a very combative Alistair from the beginning of the test.
The competition that started at 17 p.m. began with the 1.500-meter swim where the first to get out of the water was Airon Royle followed by Alistair Brownlee and Martel Van Riel leading the group. Noya came out at 14 seconds and Alarza at 16.
In the first meters of the running segment Alistair Brownlee tried to break the test by attacking as soon as he left T1.
In the first kilometers a group of 8 units was formed with the Brownlee brothers, Jonas Schomburg or Van Riel pulling the group while from behind another group with Noya, Alarza, Yee or Blummenfelt tried to reach them.
The group was unified in the third round forming a group of 29 units that passed without Noya who Suffered a fall on the first lap with a road cone and was forced to retreat.
In the following laps there were several attacks trying to break the group but none were successful until in the seventh lap the British Samuel Dickinson he left alone with a 10-second lead in T2.
In the first few meters of the foot race after a quick transition, the German Jonas Schomburg attacked, leaving a few meters ahead. Alistair lagged behind losing options to fight for victory.
Later the judges they disqualified the british for unsportsmanlike behavior during the swim segment
In the passage through the first lap Alex Yee led the test with a few seconds ahead of a group with Blummenflet, Wilde, Jonathan Brownlee or Serrat among them. Alarza was a few seconds behind.
In the second lap, Yee continued to increase his lead passing with 16 seconds over Wilde and with 27 seconds over the chasing group with Blummenfelt, Alarza, Serrat, Pearson and Van Riel.
The last lap was started by the Briton with an advantage of 28 seconds over Pearson and Wilde and 35 over Van Riel and Alarza. Blummenfelt and Serrat dropped from the group losing all options to fight for the podium.
Finally Alex Yee has achieved his first victory in the WTS with a time of 1:43:27 followed by Morgan Pearson (1: 43: 52) and for Marten Van Riel (1: 44: 03)
Fernando Alarza it has been fourth and Hayden Wilde fifth. Antonio Serrat it has been 8th.
Classification
| | | |
| --- | --- | --- |
| Athlete | Country | Time |
| Alex Yee | GBR | 1:43:27 |
| Morgan Pearson | USA | 01:43:52 +00:00:26 |
| Marten Van Riel | BEL | 01:44:03 +00:00:37 |
| Fernando Alarza | ESP | 01:44:12 +00:00:46 |
| Hayden Wilde | NZL | 01:44:27 +00:01:01 |
| Kristian Blummenfelt | NOR | 01:44:33 +00:01:07 |
| Léo Bergere | FRA | 01:44:36 +00:01:10 |
| Antonio Serrat Seoane | ESP | 01:44:37 +00:01:11 |
| Jonathan Brownlee | GBR | 01:44:43 +00:01:17 |
| Jonas Schomburg | GER | 01:44:48 +00:01:22 |