Triathlon News
Alistair Brownlee wins the Cagliari World Cup
Alistair Brownlee winning the Cagliari Triathlon World Cup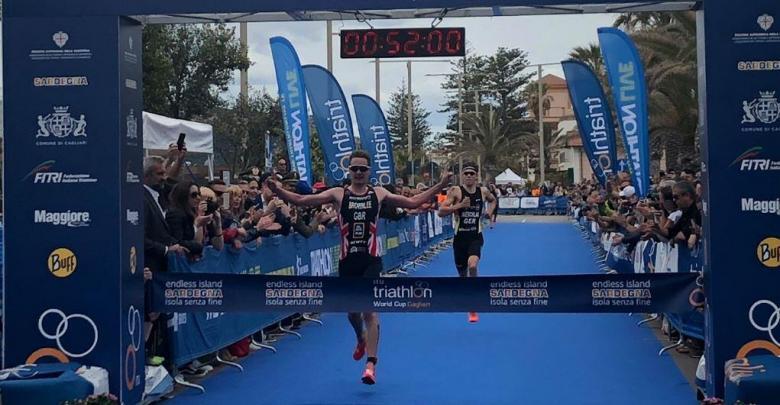 Today was held in Italy, the Cagliari Triathlon World Cup, where all eyes were on the participation of Alistair Brownlee, double World and Olympic champion who returned to compete in a WC event after more than a decade.
Everything points, that the Briton of 31 years is preparing the test of the WTS of Leeds, in June, but he does not rule out that he wants to see if he can qualify for the Tokyo Olympics.
As for the test the first to get out of the water was Justus Nieschalg followed by Mark Dévay and Alistair Brownlee two seconds.
In the first kilometers of the cycling segment, no group formed and the whole peloton rolled together. Little by little a group in the lead (12 units) was formed with the strongest where Brownlee were but without any Spanish. Finally the group reached T2 43 seconds ahead of their pursuers to tackle the 5 km race on foot.
In the race they quickly left the group breaking a trio consisting of Alistair Brownlee, Kevin Mcdowell and Justus Nieschlah passing with 20 seconds ahead in the first round.
Finally Alistair Brownlee got the victory with a 52 time: 01 in a tight sprint with Justus Nieschlah who has finished second. Kevin Mcdowell has been the third classified trained to 12 seconds.
As for the Spaniards in the test, Alberto García It has been 12º , Genis Grau 18th and 24th
Male classification
| | |
| --- | --- |
| Alistair Brownlee | 0:52:02 |
| Justus Nieschlag | 0:52:03 |
| Kevin Mcdowell | 0:52:14 |
| Gordon Benson | 0:52:38 |
| Ryan Bailie | 0:52:42 |
| Lukas Hollaus | 0:52:44 |
| Gregor Payet | 0:52:45 |
| Bob Haller | 0:52:48 |
| Márk Dévay | 0:52:53 |
| David Uccellari | 0:52:58 |
Sophie Coldwell takes the victory in women with two Spanish in the Top 10
In the women's test victory has been for the British Sophie Coldwell, who has mastered the test from start to finish with a time of 57: 58 followed by the German Nina Eim (58: 08) and by the Belgian Valerie Barthelemy (58: 10) occupying the third final position.
Anna Godoy has been fifth in a great performance and Sara Pérez Tenth room.
Female classification
| | | |
| --- | --- | --- |
| Sophie | Coldwell | 00:57:57 |
| Nina | Eim | 00:58:08 |
| Valerie | Barthelemy | 00:58:09 |
| Lena | Meißner | 00:58:12 |
| Anna | Godoy | 00:58:17 |
| Beth | Potter | 00:58:21 |
| Jodie | Stimpson | 00:58:26 |
| Caroline | Pohle | 00:58:42 |
| Emma | Jackson | 00:58:45 |
| Sara | Perez Sala | 00:58:50 |