Alistair Brownlee and Kristian Blummenfelt will seek to lower the 7 hours in IRONMAN
The distance record is 7 hours, 35 minutes and 39 seconds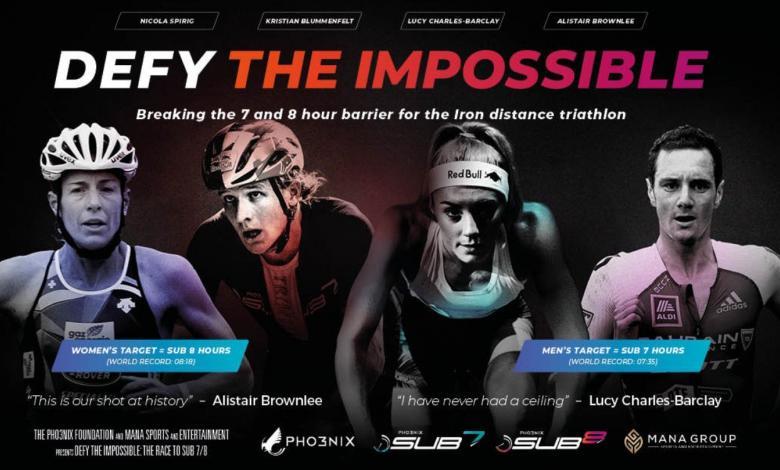 Four of the best triathletes in the world have announced a new challenge for the year 2022, to lower the 7 hours in IRONMAN in men and 8 in women.
On the one hand the double Olympic champion Alistair Brownlee and the IRONMAN 70.3 world record Kristian Blummenfelt They will face this challenge in the spring of 2022.
Both will try to get off the current record that is 7 hours, 35 minutes and 39 seconds passing under seven hours. You can check the list of best times in IRONMAN
Lucy Charles and Nicola Spirig will try to lower the 8 hours
In this challenge, in addition to Brownlee and Blummenfelt, the three-time IRONMAN runner-up will join. Lucy Charles-Barclay and the double Olympic medalist, the Swiss Nicola Spirig
They will attempt to complete the distance in less than eight hours, beating the current women's record at 18 minutes 18 seconds held by Chrissie Wellington (8:18:13).
How long will they have to swim, roll and run to get below 7 hours?
To achieve this they will have to swim to the rhythm of the Olympic medalists in open water, pedal at an average speed of 51 kilometers / hour for 180 kilometers and run a marathon of less than 2 hours and 30 minutes.
How did the challenge arise?
Speaking about how the project came about, Alistair Brownlee commented:
"We sat around a table after an endurance race in Bahrain discussing world record times and whether they could be beaten.
The women thought that under the right conditions it was possible to spend less than 8 hours. I thought it could be less than seven hours.
A mixture of bravado and competitive instinct kicked in and before we knew it, we had all subscribed to the idea of ​​not only trying to go faster than anyone in history, but also breaking the mythical barriers of 7 and 8 o'clock. «.
Chris McCormack, leading the challenge
Headed by former world champion triathlete and now CEO of the event organizers Mana Sport and Entertainment Group, Chris McCormack, the challenge now has a name is the Pho3nix SUB7 and Pho3nix SUB8.
The endeavor is supported by lead partner, The Pho3nix Foundation, a non-profit organization that supports youth sports participation.
In addition to promoting the physical and social benefits of sport, Pho3nix also provides youth with the resources and educational development to promote the positive values ​​and attitudes that sport provides and which become life skills.
«If they succeed would elevate these great athletes to rock stars of endurance sport.
"If Alistair or Kristian fall below 7 o'clock or Nicola or Lucy from 8 o'clock, it would elevate these great athletes to rock stars of endurance sport. I really mean it.
What they are attempting is almost the perfect multi-sport endurance athletic challenge. Physical brutality is one thing, but the anguish and mental suffering charged with it are not advertised.
It's really an attempt at #DefyImpossible »
The challenge is being promoted by a campaign titled Defy The Impossible And it's designed not only to impact the elite end of the sport, but also to drive change and inspire people at the grassroots level.
More information https://www.sub7sub8.com/