Almagro dispels doubts in Valladolid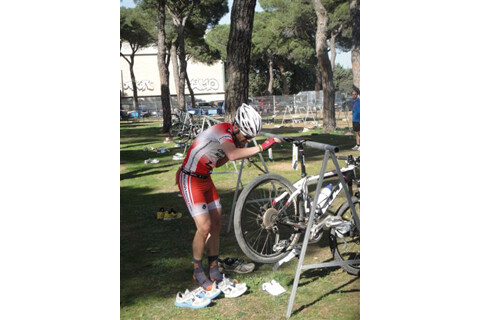 What there is no doubt about what he experienced this weekend in Valladolid is that in no test there is a truce, that if it is not one it is another, but that Almagro's attacks come from all sides and it is normal for the moment it is the "enemy to beat"
But Almagro has studied everything, he watches his rivals, doses his efforts and knows how to read the test at all times and today he knew how to do it well.
From the outset, Jose Almagro carefully prepares the test, his bike, the situation, his shoes, by the way he uses two pairs, one for the first race and the other for the second, everything ready to leave nothing unchecked.
As soon as the starting horn was blown, Jorge Manuel Perez went solo trying to put seconds behind both Almagro and Alexis Rodriguez, knowing how they ride their bikes and that due to this they soon hunted him down.
From those moments began the "duel of the titans" between Jose and Alexis. The fight on the bike was bloody and Alexis reached the transition area with a small difference.
Almagro puts on his other "flying" shoes and hunts down Alexis and appears alone on the finish line. Behind Alexis Rodriguez and ahead of the lions Jorge Manuel Perez who this year defends the colors of the Casablanca Stadium in Zaragoza.
By teams, the victory went to the Tri Val-Valdemoro Triathlon.
The best ones were:
THE TOP 10
1º ALMAGRO VALERO, Jose - RUN2CHEMA TRIATLON 1:18:14
2nd RODRIGUEZ HERNANDEZ, Alexis -TRIATLON SALAMANCA 1:18:27
3º PEREZ DIAZ, Jorge Manuel -STADIUM CASABLANCA-FERTIUM 1:20:36
4º DOMINGUEZ MARIN, Fernando -TRI-VAL TRIATHLON 1:22:31
5th MUÑOZ MARTINEZ, Carlos - TRI-VAL TRIATLON 1:22:57
6th GONZALEZ GIL, Alberto -TRI-VAL TRIATHLON 1:23:19
7º HAIRSTYLE DIAZ, David -LIDER-ESPROTEN-TRITOLEDO- 1:24:56
8º TURRADO GARRIDO, Jorge – MUNG TRIATHLON TEAM UCP 1:26:46
9º MONTERO ARRANZ, Paulino - CD BOMBEROS VALLADOLID 1:27:07
10th CAMPOS ABALO, Casimiro -MOLPESA-UNIVEST TRIATHLON 1:27:35
Source: FETRI