Ana Burgos Spanish Duathlon Champion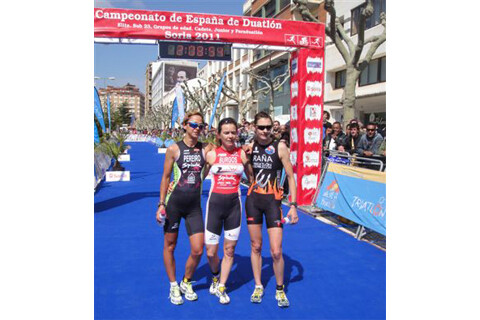 In Soria there was an undisputed winner Ana Burgos. The Madrilenian showed once again that this championship suits her and that no one can put any opposition to the sum of titles that she collects at the moment.
We could think it was easy, but she makes it hard since she worked hard in the first ten kilometers and on the bike, although as she herself stated at the end, in the last 5 km she slows down a bit and dedicated herself to enjoying herself. .
From behind and we believe that conforming to looking for second place came Inmaculada Pereiro who climbed positions on the bicycle and leaving behind Natalia Raña, who until that moment was fighting for the silver medal.
Many changes in the top 10 positions with a very young Tamara Gomez who not only reached the finish line in 5th position but also won the Spanish Championship in the sub 23 category, showing that the future of this modality lies in her.
By clubs the winner was the Cidade de Lugo with Estefanía Domínguez (4th), Marta Jiménez (6th) and Saleta Castro (8ª).
The best duathlete in the age groups was María Raquel Miras, from the Tragamillas Triathlon club who did the finish line 2:23:07
The best were the following:
TOP 10 INDIVIDUAL
1st Burgos Acuña, Ana -Run2chema Triathlon 2:04:35
2º Pereiro Gonzalez, Inmaculada- Svc- Security 2:07:42
3rd Raña Fuentes, Natalia- CT Diablillos de Rivas. 2:08:19
4th Domínguez Calvo, Estefanía -Cidade de Lugo Fluvial 2:08:43
5th Gomez Garrido, Tamara -Cerrr Igualada 2:09:24
6th Jiménez Jiménez, Marta -Cidade de Lugo Fluvial 2:09:53
7º Herrero Gomez, Helena - Lider-Esproten-Tritoledo- 2:10:54
8º Castro Nogueira, Mª Saleta- City of Lugo Fluvial 2:12:21
9th Gomez Villanueva, Estefanía- Lagunak-Saltoki Trikideak 2:13:06
10th Bravo Zúñiga, María- Aquaslava-Deporinter 2:14:14
CLUBS
1º CIDADE DE LUGO FLUVIAL 6:30:57 (ESTEFANIA DOMINGUEZ / MARTA JIMENEZ / Mª SALETA CASTRO)
2nd CT DIABLILLOS DE RIVAS. 6:44:41 (NATALIA RAÑA / ADRIANA CHARRY / TAMARA SANFABIO)
3rd LEADER-ESPROTEN-TRITOLEDO- 6:46:14 (HELENA HERRERO / Mª REMEDIOS CARRASCO / SARA REGIDOR)
TOP SUB 23
1º GOMEZ GARRIDO, TAMARA- CLOSE IGUALADA 2:09:24
2nd ORTÍN BONE, MÓNICA -STADIUM CASABLANCA-FERTI 7 2:21:29
3º MORRIO PEREZ, NURIA- CLUB ATLETISME SAFOR-CAFE 2 2:33:40
4th LE GALL, AMELIE -TRIATLON SALAMANCA 2:40:57
5th CONIGLIO YETMAN, FLAVIA JULIE- TRIATHLON ARCADE INFORHOU 2:50:42
6th FERNANDEZ DE LEZEA, AMAGOI -T. SANTANDER 2:51:07
7th BALBÍN SAN MIGUEL, CATALINA- CITY OF GIJÓN 2:53:03
Source: FETRI