Ana Burgos and Mario Mola win at Rivas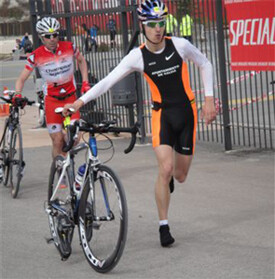 This weekend the qualifier for the Spanish Duathlon championship was played in the Madrid town of Rivas.
In the Male category he has won Mario Mola, which has shown a remarkable superiority over that of participants. Second has been Jose Almagro and in third position came Miguel Angel Fidalgo.
In the Female category, Ana Burgos won the test with total authority. The second classified was Natalia Raña and in third position was Tamara Gomez.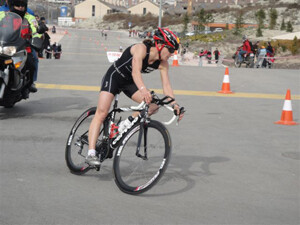 Male Classification:
1º MOLA DIAZ, MARIO ADA CALVIA 0:52:21
2nd ALMAGRO VALERO, JOSE RUN2CHEMA TRIATLON 0:52:43
3rd FIDALGO ROSELLO, MIGUEL ANG ADA CALVIA 0:52:57
4th HERNÁNDEZ CABRERA, VICENTE CLUB TRIATMANIA - LUSITANIA 0:53:05
5th ALARZA VICENTE, FERNANDO CLUB TRIATMANIA - LUSITANIA 0:53:21
6th AMATRIAIN ARRAIZA, RAUL LAGUNAK-SALTOKI 0:53:29
7th ABUIN ARES, UXÍO T. REMECO MURALLA LUGO 0:53:35
8th DOMINGUEZ MARIN, FERNANDO TRI-VAL TRIATLON VALDEMORO 0: 53: 3
9º SUÁREZ PÉREZ, EMILIO CIVIL ACADEMY - EL MUSEL 0:53:41
10TH DEL NERO MONTES, NEREO CD DUATLON TEAM PALAZUELO 0:53:42
Female classification:
1st BURGOS ACUÑA, ANA INDEPENDENT 4 1:00:06
2nd RAÑA FUENTES, NATALIA CT DIABLILLOS DE RIVAS. 1:02:36
3rd GOMEZ GARRIDO, TAMARA INDEPENDENT 1:02:59
4th CASILLAS GARCÍA, MIRIAM TRIATLON FERROL 1:03:34
5ª BRAVO SOBA, ROSA CD CICLISTA PISUERGA 6 1:03:47
6th GODOY CONTRERAS, ANNA CLUB NATACIO BARCELONA 1:04:09
7th ROUTIER CAÑIGUERAL, CAROLINA CTOA 1:04:36
8th ENCINAS CUBOS, Mª JOSÉ CT DIABLILLOS DE RIVAS. 1:05:45
9th ARRIBAS AGÜERO, TERESA TRI-VAL TRIATLON VALDEMORO 1:05:52
10th SAIZAR ARDANUY, JUDIT LAGUNAK-SALTOKI 1:06:27
source: www.triatlon.org