Andrea Hewitt wins the Abu Dhabi World Series on the sprint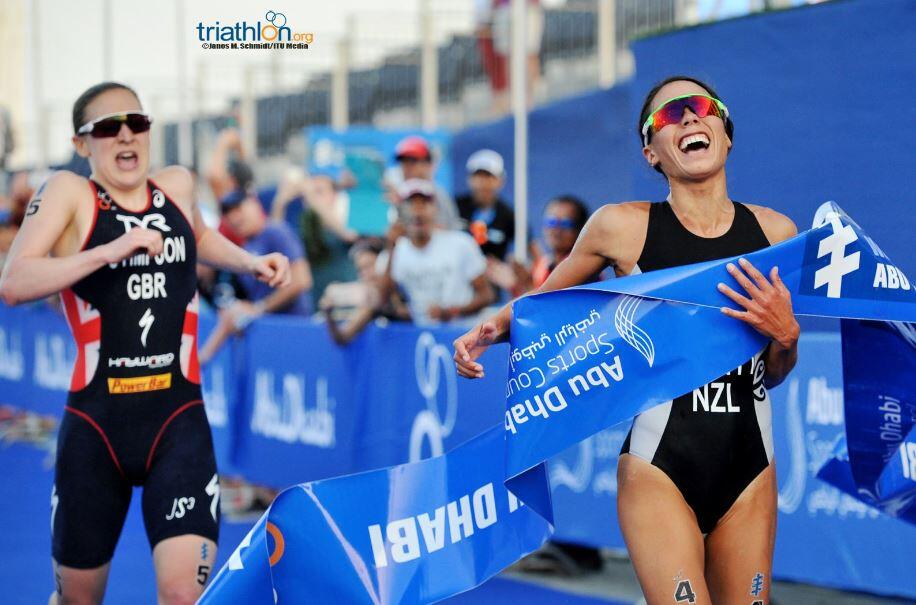 Today was the first round of the WTS 2017 circuit with the victory of the Andrea Hewitt in Abu Dhabi
Hosted by:

The inagural test of Triathlon World Series that has been held in Olympic distance (1,5 km swimming, 40 km cycling, 10 km running) inaugurated a new highly technical circuit and "breaks legs" that has featured the 1 formula circuit.
Carolina Routier holds the best position of a Spaniard in the WTS won at the 2015 in Edmonton with the fourth place finish
At the 13: 55 was given the start of the race, where our only representative was Carolina Routier, where she has once again shown that she is the best swimmer on the circuit leaving the first of the water followed closely by Summer Cook, Katie Zaferes and Sara True.
In the technical circuit of 40 km, with many sharp turns and several ramps, sen has formed in the first kilometers two groups that have joined in the first part of the course with Andrea Hewitt, Jodie Stimpson, Sarah True, Summer Cook or Katie Zaferes among others. It has been a demanding circuit where cyclists of all groups were picked up every bend or slope. Finally a group of 2 triathletes with the favorites has arrived at the T9 with an advantage over the second group that has reached 42 seconds where was the Japanese Ai Ueda. Carolina Routier went off the hook arriving at the T2 with more than 4 minutes of disadvantage.
In the race sector of 10 kilometers in length, also by the Formula 1 circuit, the leading group was losing units until it was formed a quarter with Rachel Klamer, Andrea Hewitt, Jodie Stimpson and Sara Vilic. Behind the Japanese Ai Ueda co strong pace was advancing positions to pass in the first round to 26 seconds of the head of the race.
Half way down Rachel Klamer went, leaving alone in search of victory the trio formed by Andrea Hewitt, Jodie Stimpson and Sara Vilic, Ai Ueda 37 seconds in seventh place.
Finally the victory has been for the New Zealand Andrea Hewitt in an impressive spritnt with a final time of 2: 03: 46, followed in second position by British Jodie Stimpson (2: 03: 46) and by the Austrian Sara Vilic (2: 03: 53) occupying the third final place in a great race. Carolina Routier has finished in the 24º final position
Final Sprint
What an incredibly exciting sprint finish to open up the 2017 WTS season! A huge congrats to @andreahewittnz! pic.twitter.com/RtYpbwYHwA

- TriathlonLIVE (@triathlonlive) March 3th 2017

Rating:

Pos
Athlete
Country
Time
Finish
1 # 4
Andrea Hewitt
NZL
2:03:46
2 # 5
Jodie Stimpson
GBR
+00:00:0002:03:46
3 # 16
Sara Vilic
TUE
+00:00:0702:03:53
4 # 8
Rachel Klamer
NED
+00:00:3102:04:17
5 # 2
Ai Ueda
JPN
+00:01:0602:04:52
6 # 28
Gillian Backhouse
AUS
+00:01:1002:04:56
7 # 3
Katie Zaferes
USA
+00:01:1702:05:02
8 # 24
Lisa Perterer
TUE
+00:01:1902:05:05
9 # 20
Yuko Takahashi
JPN
+00:01:2102:05:07

Tomorrow, March 4, it will be the turn of the male triarmada where we will have the presence of Javier Gómez Noya, Mario Mola , Fernando Alarza and David Castro.

Photo: @triathlonlive