Antonio Benito runner-up in the LD Triathlon World in Ibiza
The title has been for Clement Mignon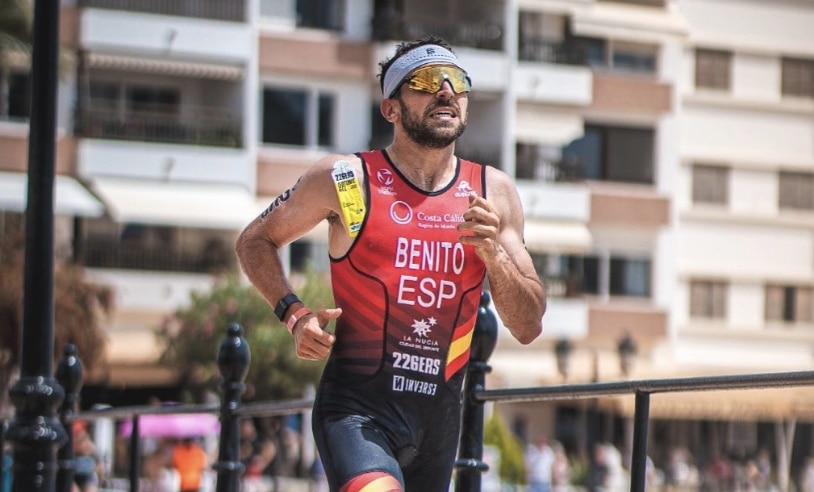 Today, within the framework of the 2023 Multisport World Cup in Ibiza, the LD Triathlon World Championship.
In the test that has been disputed under the format of 3 km of swimming, 116 km of cycling and 30 km of running on foot had a good poster of professionals and Spaniards.
The first to come out of the water was Richard Varga and Joshua Amberger with a 24-second advantage over a group of 6 that included Antonio Benito and Clement Mignon.
On the bike the leading group was unified with Mignon, Bogen, Varga, Benito, De Keyser, Amberger, but little by little they separated to go through the first lap with Bogen, Mignon and Benito in the lead.
In T2 the first to arrive was Bogen with a 25 second advantage over Mignon and 2:38 over Benito who was in third position.
In the foot race, Benito, with a large segment, was cutting time from his opponents to reach the lead in the second round.
From there he increased his lead to go through the third lap with a 37 second lead over Mignon and 1:48 over James Teagle.
On the fourth lap there was a nice duel between Benito and Mignon who maintained their difference, although shortly after the end Mignon managed to overtake the Spaniard.
Finally, Clement mignon he got the victory and the world title with a time of 5:17:17 followed by Antonio Benito (5:17:49) which has been second. third was matt traumman (5: 19: 52).
This is the time table between the first 2 classified
| | | |
| --- | --- | --- |
| Segment | Clement mignon | Antonio Benito |
| Swimming | 00:36:13 | 00:36:06 |
| 1st transition | 00:02:27 | 00:02:14 |
| Cycling | 02:48:22 | 02:50:56 |
| 2nd Transition | 00:03:04 | 00:02:34 |
| Career | 01:47:13 | 01:46:00 |
| Total time | 05:17:17 | 05:17:49 |
As for the Spanish Fernando Zorrilla it was 11º, Pello Osoro 15º, Víctor Arroyo 19º, Eneko Llanos 21º and Alberto Molins 23 º
Men's 10 Top
| MARKET STALL | Athlete | Country | Time | difference to the leader |
| --- | --- | --- | --- | --- |
| 1 | Clement mignon | FRA | 05:17:17 | - |
| 2 | Antonio Benito Lopez | ESP | 05:17:49 | + 00: 00: 32 |
| 3 | Matt Trautman | RSA | 05:19:52 | + 00: 02: 35 |
| 4 | Tristan Olij | NED | 05:20:20 | + 00: 03: 03 |
| 5 | Joshua Amberger | AUS | 05:21:33 | + 00: 04: 16 |
| 6 | Ondrej Kubo | SVK | 05:22:36 | + 00: 05: 19 |
| 7 | James Teagle | GBR | 05:22:54 | + 00: 05: 37 |
| 8 | Kenneth Vandendriessche | BEL | 05:23:12 | + 00: 05: 55 |
| 9 | Kacper Stepniak | POL | 05:24:42 | + 00: 07: 25 |
| 10 | Samuel Huerzeler | SUI | 05:25:20 | + 00: 08: 03 |