Antonio Serrat and Marta Pintanel in the final of the Kitzbühel Triathlon European Championship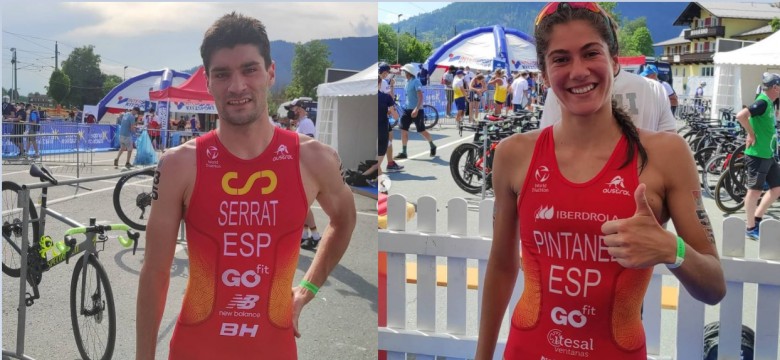 Yesterday the semifinals of the European Sprint Triathlon Championship
In the various tests that were held yesterday we had 16 Spaniards. In the elite category, two triathletes have qualified for the final, Antonio Serrat y Marta Pintanel for the finals to be played this afternoon
Antonio won in his series with a time of 32:44 while Marta It was 11th although it was one of the best times of the play-offs.
Here at the junior category 6 of the 8 participants have qualified.
Today the final will be played where Spain will feature medal options.
Spanish results
These are the results of the Spanish in yesterday's competitions
| | | | | |
| --- | --- | --- | --- | --- |
| First Name | Last Name | Post | Time | Category |
| Antonio | Serrat Seoane | 1 | 00:32:44 | Semifinal 2 Elite Men |
| Natalia | Castro Santos | 1 | 00:37:44 | Semifinal 2 Junior Women |
| Esteban | Basanta Fouz | 2 | 00:34:08 | Semifinal 1 Junior Men |
| Helena | Moragas Molina | 2 | 00:37:44 | Semifinal 2 Junior Women |
| María | Casals-Mojica | 2 | 00:37:52 | Semifinal 3 Junior Women |
| Juan | Gonzalez Garcia | 6 | 00:34:57 | Semifinal 3 Junior Men |
| hilt | Penalty Vicente | 8 | 00:38:32 | Semifinal 3 Junior Women |
| Marta | Pintanel Raymundo | 10 | 00:37:32 | Semifinal 2 Elite Women |
| Sara | Perez Sala | 11 | 00:37:54 | Semifinal 2 Elite Women |
| Alberto | Gonzalez Garcia | 12 | 00:33:37 | Semifinal 2 Elite Men |
| Tamara | Gomez Garrido | 12 | 00:38:40 | Semifinal 3 Elite Women |
| Roberto | Sanchez Mantecon | 15 | 00:34:05 | Semifinal 1 Elite Men |
| Igor | Bellido Mikhailova | 15 | 00:35:40 | Semifinal 1 Junior Men |
| Iratxe | Arenal Arribas | 16 | 00:38:44 | Semifinal 2 Elite Women |
| Sergio | Baxter cabrera | 22 | 00:35:49 | Semifinal 1 Elite Men |
| Joan | Reixach April | DNF | DNF | Semifinal 1 Junior Men |
List of qualifiers for the final