Arrigorriaga celebrates tomorrow the most virtual indoor triathlon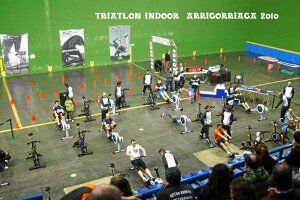 Rowing, cycling and running will be concentrated tomorrow at the Arrigorriaga sports center. The base Urbiko Triatloi Taldea organizes the second edition of the Popular Indoor Triathlon. Unique test of these characteristics in Bizkaia, the meeting hopes to bring together 70 athletes and fans of this specialty.
From the club they explain that "we propose distances so that everyone can do it." This year, however, they regret that "there are hardly any people from the village and almost all of them are from outside." The participants in the event will have to travel a kilometer and a half on a rowing machine -simulation machine-, pedal another 5.000 meters on an exercise bike and 1.000 more on foot in a circuit set up inside the fronton. The times in which it is completed, in addition, are around 17 minutes.
The competition will be held in series of ten people, divided by sex and divided into several categories: absolute male and female, junior, sub-23 and veterans 1 and 2. As a novelty, this time the test will begin at eleven in the morning -Last year it was only held in the afternoon- and it will resume at 16.00:XNUMX p.m.
But the movement in the sports facilities will start from the first hour, around 9.00. Ultra-distance runner Julián Sanz will face a new challenge. The cyclist from Ugao-Miraballes will face three triathletes from Urbiko, who in relays will try to complete the three hundred kilometers of route planned before Sanz.
This duel will not require moving from the site because the virtual long distance training system or Bkool will be used, which generates images of the route chosen. The adventures will be carried out on rollers that will simulate the marked itinerary.
With this same method as well, and as the final culmination of the day, six renowned triathletes will participate in an exhibition test, which is tougher than the tournament. Athletes such as last year's winner, Urbiko member José Ignacio López, Juan Gil and Rubén Almendro will roam 1.500 meters, ten kilometers with their own competition bicycles and two more running races - twenty laps inside the fronton -.
In this sense, those responsible for the event explain that this display of skills involves "bringing" this modality to the public. "We are not a typical club, what we like is to offer something more to people and with these tests we have the possibility"
Source: .elcorreo.com