Triathlon News
Javier Gómez Noya «I aspire to be as fast as before, to run at least as I ran before.»
Noya returns to compete in the WTS after 1 year and a half without doing so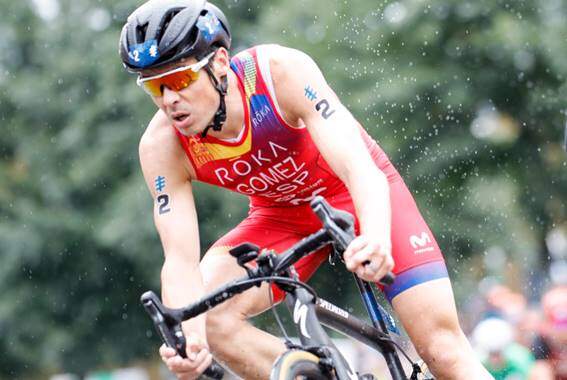 The Galician triathlete Javier Gómez Noya account in an interview to the Voice of Galicia, how do you deal with Bermuda World Series, on his return to the circuit after having been a year focused on IM.
Although his real challenge awaits him in August of 2020 at the Tokyo Games. To start big, Javier Gómez Noya Do you feel fresh to go fast?
-Fresco, not yet. But I feel good about the references of the rhythms of the training, which then have to be taken to the race, to be well placed, not to lose options ... I think I can fight, but being the first Olympic distance race in a long time, see how others are doing
- When he won his fifth World Cup, in the 2015, he had 32 years, at least five more than all the top 13 rankings.
- Yes, the turning point was the London Games. Then I went from being a young man to a veteran, with no middle ground, because after the Olympic cycles some retire and others pass over a long distance. Today there are still one or two of my fifth, but the most dangerous rivals are much younger. It's another incentive and the result of a long career, something to be very proud of.
-To win in this new stage, is your idea to approach the 29 minutes in the ten thousand end on foot, which are big words, or win otherwise?
-If I get involved in this battle, it's thinking about Tokyo, which will be a hot and hard drive, but not so fast, and that can benefit me. Although my goal for the end of this year is to haunt those 29 minutes, in good weather conditions and so on. I think I should be able to run in 29 minutes and little.
-So, despite returning with 36 years, wants to be as fast as before going to the Ironman.
-Yes Yes. I aspire to be as fast as before, to run at least as I was before. Then we'll see if it can be achieved. I am also harder on a bike than before thanks to the ironman training. It shows and can help me.
-But now almost all races are decided on foot, there are not as many adventurers to break the bike races, as when competing against the two Brownlee brothers.
- Maybe the Norwegians are the only ones that look for that by bike and they can surprise you at any time. Now you run with the mentality of the sprint tests: be well placed in the transition, not lose a few seconds that can be key and run fast. We'll see what happens if Alistair Brownlee tries to qualify for the Games.
- Your idea is to win on foot?
-Yes. I want to put myself at the level of the best. I know it's hard to beat Mario [Mola] in a heads-up on foot, because circumstances that favor me in a hard or penalty race would have to be given. A ten thousand with the whole fresh world would be more complicated.
-Although it is not in the key part of the season, a prestige is played in each race, is it seen to win in Bermuda?
-It's premature, but I'm going to fight to win or, at least, get on the podium. It is difficult to get it, also, being the first test, because I need to shoot. I'm not looking for my peak here, nor is this my main objective. But I face the races with the same mentality as when I won them. I will sell the skin expensive.
You can read the Full interview