Banyoles has all the necessary ingredients to make the test a success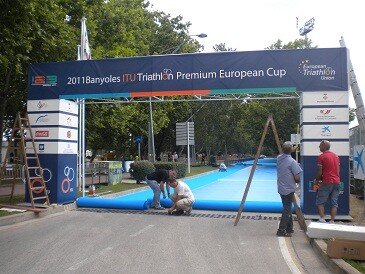 This weekend, the town of Banyoles will host the Triathlon Premium European Cup. A total of 26 countries will be represented in this test to be held this Sunday.
Its origins date back to 1986 when nearly 300 triathletes gathered in the starting dock to participate in the first triathlon held in this town, year after year hosting this event, today it celebrates its silver anniversary. With a consolidated experience, and after hosting the 1993 U23 Triathlon European Championship, this year, the town of Banyoles takes the leap and celebrates the first Premium Triathlon European Cup.
In addition, it will have a "luxury guest", Javier Gómez Noya, current triathlon world champion "The final decision to go to Banyoles was a bit based on my training, thinking about what we believe is the best way to face the London WCS that will be held next week. Knowing Banyoles, which is an ideal place to hold a triathlon and also thinking about my training, I definitely decided to participate. This time I will not compete 100% of my performance, since next weekend I will have to be in London, but it will help me to try some things and enjoy the test "
This test is today a reality largely thanks to the support of the Higher Sports Council and the Banyoles City Council through the Sports Councilor, Jordi Congost, the Catalan Triathlon Federation and the Spanish Triathlon Federation.
For Jesús Andreu, President of the Catalan Triathlon Federation, "Banyolés has all the necessary ingredients, a magnificent natural lake, an incredible environment, a great fondness of its citizens for this sport… besides, it is a consolidated city in the organization and hosting sporting events. Since the first triathlon in which I took part and which was held in 1986, passing through the celebration for several years of the mythical "postal box triathlon circuit", 25 years later and without failing a single one, Banyoles continues to host every summer a triathlon test ". "Triathlon is a sport that has had great momentum in recent years, Banyoles has always been there. Hosting the Premium European Cup is a step forward to achieve our illusion, which is to be able to hold a Triathlon World Cup soon "" I want to thank all the triathletes who will visit us these days for their participation, I am sure they will enjoy this circuit"
A total of 23 will be the countries that will take part in the test that will start on Sunday at 9.45 in the elite female category and at 12.45 for the male elite. The circuit will take place over the Olympic distance that consists of 1500 meters of foot race in Lake Banyoles and that will consist of 2 laps, 40 km cyclist, 6 laps, and 10 km of foot race, 3 laps to the circuit. These last two segments will take place in the vicinity of the lake.