Marina Damlaimcourt fourth in Ishigaki, Bárbara Riveros winner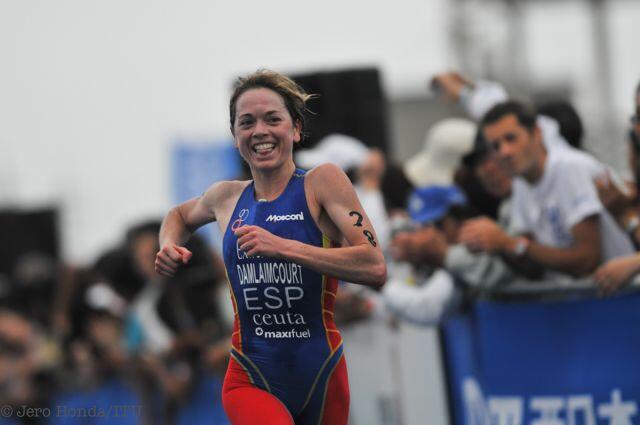 In the early hours of Saturday to Sunday, Spanish time, the Triathlon World Cup was held in the Japanese town of Ishigaki, an island located about 2000 kilometers southwest of Tokyo.
The test had excellent conditions, 28 degrees outside temperature and 23 degrees in the water. The victory was for the Chilean Bárbara Riveros with a time of 02:01:57, who started as one of the favorites to achieve first place, after asserting herself this year with bronze in the first World Cup held in Mooloolaba ( Australia) and take second place last week in Sydney (Australia) in the first round of the World Series.
Followed by Bárbara Riveros, the 2nd position in the Ishigaki World Cup has been for the Irish Aileen Morrison 02:02:19 and the 3rd classified the Japanese Kiyomi Niwata 02:02:34.
Good performance also for the Spanish Women's Team, in which Marina Damlaimcourt has achieved the 4th position and also had the presence of ZURIÑE RODRIGUEZ, 11th position, MARÍA PUJOL, 24th, and AINHOA MURUA, 33rd.
First out of the water were Kerry Lang (GBR), Line Jensen (DEN), Radka Vodickova (CZE) and Eri Kawashima (JPN), making the transition first. In the fourth cycling lap, the first group stood out, 30 seconds apart, in which were Riveros Díaz (CHI), Morrison (IRL), Mariko Adachi (JPN) and Kirsten Sweetland (CAN) 30 seconds behind the second group , which had 30 triathletes. Upon reaching the second transition, the Chilean Barbara Riveros, took advantage of the chasing group, among which was included the Spanish Maria Damlaimcourt, who finally managed to enter the goal in 4th position, just 11 seconds behind the third classified.
In this test, scoring for the Olympic Classification, Marina and Zuriñe have managed to obtain the points to achieve the second and third places, once the Olympic Ranking has been updated.
10 First Classifieds:
1. Barbara Riveros Diaz CHI 02: 01: 57
2. Aileen Morrison IRL 02: 02: 19
3. Kiyomi Niwata JPN 02: 02: 34
4. Marina Damlaimcourt ESP 02: 02: 45
5. Erin Densham AUS 02: 02: 59
6. Maria Czesnik POL 02: 03: 15
7. Jillian Petersen USA 02: 03: 19
8. Line Jensen DEN 02: 03: 23
9. Akane Tsuchihashi JPN 02: 03: 25
10. Non Stanford GBR 02: 03: 39
All results: http://www.triathlon.org/results/results/barbara_riveros_diaz_continues_great_start_to_2011_with_win_in_ishigaki/6219/