BH will also be sponsor of the Portuguese Triathlon Federation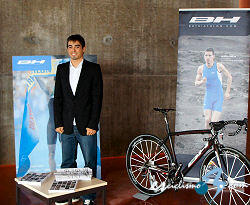 BH Triathlon has become a new sponsor of the Portuguese Triathlon Federation (FTP). The agreement was announced last Saturday at the Festa do Triatlo 2011, an event that took place in the Portuguese town of Montemor-o-Velho and which pays tribute to the most outstanding Portuguese athletes and clubs during the year, among which was the BH sponsored triathlete, Joao Silva.
The Portuguese triathlete, current European Under 23 Triathlon Champion and member of the Portuguese national team, has seen his career recognized during the season which, in addition to the European title, has included his first victory in an ITU World Triathlon Series event (Yokohama) and his inclusion in the Gold Group 2011, an exquisite group of 20 elite athletes who represent the best in the world in this discipline.
This agreement implies that BH will bring all the power of its brand to those events organized by the FTP. In addition, all triathletes of the Portugal team will compete with the BH logo on their jerseys.
The Portuguese country is a very close and important market for BH, so the international firm is very satisfied with the possibilities that this agreement opens up to publicize its specific outdoor and indoor products for triathlon. Models as spectacular as the AERO or BT AERO range will now reach Portuguese fans more easily.
This sponsorship culminates in 2011 in which BH has revealed itself as the triathlon brand thanks to its range of road and mountain bikes, its fitness machines and its support for such important events as the Garmin in Barcelona, ​​institutions such as the Federation Spanish Triathlon (FETRI) and elite triathletes such as Joao Silva or Eneko Llanos.