Bilbao will gather 650 triathletes the 19 of May in the second edition of the BilbaoTriathlon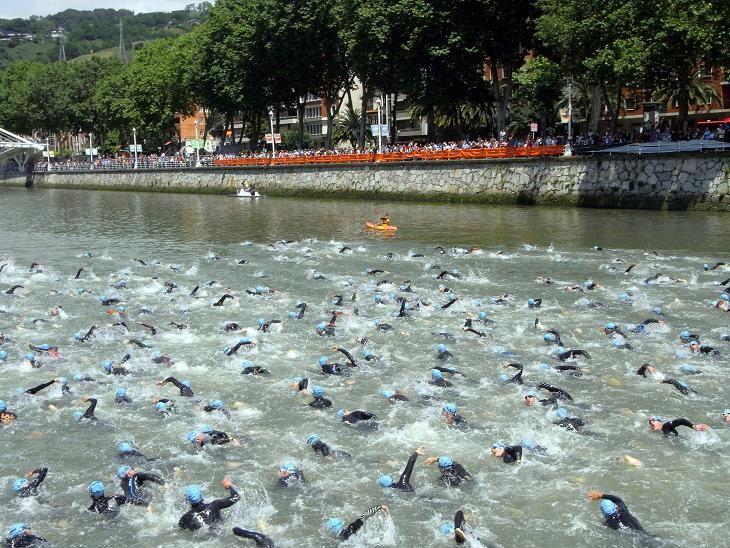 Bilbao will gather the next 19 from May to 650 triathletes, almost 200 more than last year, in the second edition of the BilbaoTriathlon, in which the winners of last year, Mikel Elgezabal and Virginia Berasategui will participate.
As reported by the organizers, the Bilbao estuary will once again be the setting for a 1.900-meter swimming competition, which will be followed by 90 kilometers by bicycle along the slopes of Artxanda, to conclude with a 21-kilometre half marathon that will skirt the estuary along its two banks, between the Euskalduna bridge and the Town Hall bridge.
BilbaoTriathlon has been presented this Tuesday at the Bilbao City Hall with the presence of all its sponsors, Coca-Cola, Euskaltel, Ipar-Kutxa and Naturgas and the institutional support of the Bilbao City Council, the Provincial Council of Bizkaia and the Basque Water Agency, URA.
The registration list was opened on December 19 for last year's participants, offering them preferential treatment, but it was not until January 4 when registrations were opened to the public. Thus, on February 1 BilbaoTriathlon reported the closure of its registrations, reaching the expected quota of 650 triathletes, almost 200 more than last year.
The organizers have highlighted that these figures "will once again place the Biscayan capital in a perfect setting for international sports events, promoting it on its way to becoming a benchmark in the calendar of this highly demanding sport."
The test will have the majority of triathletes from the Basque Country, although with a large presence of triathletes from other parts of the State, such as Barcelona, ​​Madrid, Zaragoza or Burgos, among others. As for the European presence, the BilbaoTriathlon will have, mainly, French representation, although both German, Portuguese, Italian and English triathletes will also attend in this second edition.
In the men's category, the winner of the first edition, Mikel Elgezabal will return to Bilbao, while in the women's category the first three classified will repeat this year. Virginia Berasategui will once again be the main attraction of this second edition, in which she will have to face Martina Dogana and Itsaso Leunda, as well as new additions this year such as the Scottish Alison Rowatt.
Source: europapress