Bkool allows you to train on the Banyonles Spanish Championship circuit
The Spanish Triathlon Federation has reached an agreement with Bkool to recreate its cycling segments in 3D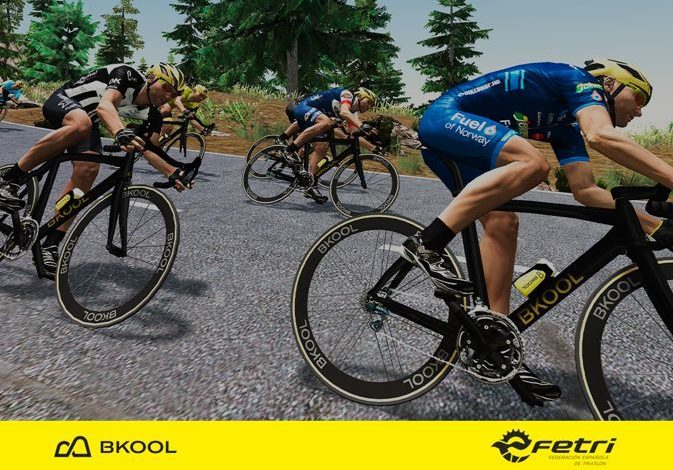 The main objective is that the general situation caused by COVID affects as little as possible the quality of the preparation of athletes.
The FETRI has reached a collaboration agreement with the virtual cycling platform Bkool, in order to provide a safe and effective solution to your triathletes.
One of the strengths of Bkool is the possibility of recreate any route in the world in video or 3D from home, enjoying a surprisingly realistic experience.
The FETRI will include the routes of the Spanish Championships
Thanks to this possibility, the FETRI will progressively include all the reruns of the cycling segments of the Spanish Championships so that their federation can test the routes before the competition.
In this way, they can perform a terrain survey without having to travel there.
To this must be added the powerful analytical platform that Bkool provides its users, offering a complete analysis of their training data in real time.
In the words of Jorge García, director of Competitions of the federation: «The agreement reached between the Spanish Triathlon Federation and BKOOL positions us to take a further step in the Federation's strategies in digital transformation and will allow us to offer, in the short term, that athletes can know the circuits of the Spanish Championship in virtual and short mode and medium term to be able to organize trainings and joint meetings, and even virtual event formats within the platform «
The Banyoles Circuit now available at Bkool
The first test already available on Bkool is the Banyoles Circuit of the Spanish Elite Triathlon Championship.
The race will take place this weekend, so the triathletes can already carry out a complete recognition of the different sections of the route virtually.
30-day free trial for new users
They can do it for free taking advantage of the 30-day free trial available at bkool.com.
And in this way to be able to know the circuit in the current situation in which the usual familiarization is not carried out.
«For us it is especially gratifying to be able to offer a safe training solution to the triathletes of our country in these times.
We are very happy to start this alliance and we are sure that it will mean an important added value for all federated triathletes«, Says Diego Pantoja, Bkool communication manager.
More routes will be uploaded in the coming weeks
In the coming weeks, Bkool will continue to add new races to its list of available routes, in order to continue serving as proof of recognition for the
runners before each test. Again, technology and sport join forces to ensure the safety of athletes and continue to improve their preparation.