Briefing of the Sierra Nevada Triathlon, data to take into account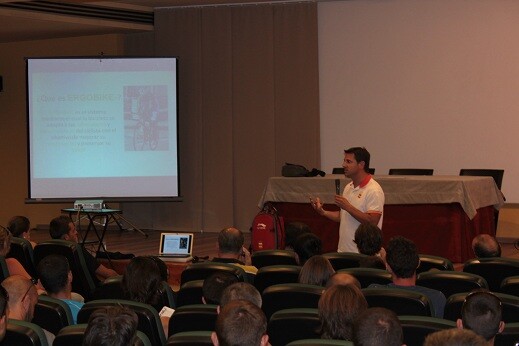 Tomorrow, Sunday at 7:30 in the town of Canales, the Sierra Nevada triathlon will start, classified as the hardest in its category and with more than 500 triathletes registered in the medium distance and Olympic distance modalities.
In the briefing held on Saturday afternoon at the Sierra Nevada ski resort, Iván Martínez de Campos, organizer of the test, presented the test welcoming the triathletes and thanking everyone for their participation in the first edition of the triathlon of Sierra Nevada, an appointment that promises to be unforgettable. On the other hand, he wanted to thank those responsible for traffic, the Civil Guard and the Junta de Andalucía for their involvement and collaboration with this project.
Before starting the briefing Mike Zabala, mythical Spanish cyclist (Former national cycling coach, Technical Director of the RFEC until Beijing 2008, current Director of anti-doping programs of the RFEC, Doctor of Sports Science). He has explained to us the importance of an ERGOBIKE evaluation in athletes who practice long-distance sports, such as triathlon.
Then the referee of the test was given way, who wanted to highlight the points to be taken into account by the triathletes in the development of the triathlon, among the points the obligation to comply with the regulations of the Spanish Federation was highlighted. of triathlon during the course of the same as well as the traffic regulations in the cycling segment, since there is a crossing of the race between the triathletes who will participate in the Olympic distance and those who will take part of the medium distance test where they will cross on the road, each one having to circulate on the right side of the road.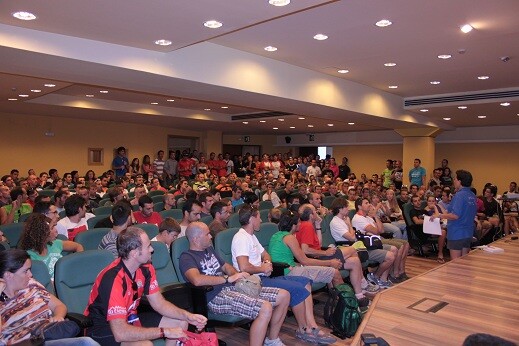 A cut-off time has been established for both distances, which has been fixed as follows:
Medium distance: Swimming, 09.00, Cycling Segment, 15.15 and running at 18.15
Olympic Distance: Swimming 09.00, Cycling Segment 12.15 and running on foot 14.15.
For the relay team, he highlighted the importance of handing over the chip in the transition from swimming to bike, before the second relay puts on the number, helmet and picks up his bike.
On the other hand, the refreshment points have been defined and Iván has made an outline of what the cycling and running segment will be.
The test will end with a paella at the Sierra Nevada station where the finish line is located.