Triathlon News
Caeleb Dressel gets in the Gwangju World Cup 8 medals
The American Caeleb Dressel has become Korea's swimming world cup in legend.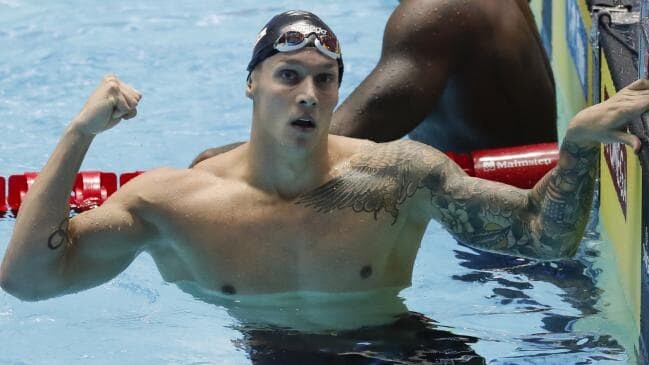 The American born in 1996 in Green Cove Springs (Florida) obtained his last medal in the 4 × 100 style relay. He finally got the silver medal, after teammate Nathan Adrian was outplayed in the last few meters.
He was the first swimmer to get three golds in a single day of the World Cup for the second time.
Dressel has established a record with eight medals, including six gold, in the most important competition after the Olympics. One year from Tokyo 2020, it will have to be taken into account.
Dressel's titles were in the 50 and 100 free meters, 50 and 100 butterfly style, free 4 × 100 mixed relay y 4 × 100 free. His other silver medal was in the 4 × 100 mixed relay styles.
"A part of me is very happy. Another part wants to cry that this is over. I have pimples on my face only from the stress that the competition has caused me. I'll probably lose some hair"Commented the World Cup star.
They start comparing him with Michael Phelps
Dressel is already being compared to the great Michael Phelps and the best may be yet to come. His vintage of world titles is of thirteen in two tournaments.
The Baltimore Shark managed 26 gold medals in six World Cups In any case, he already made history: not even Phelps made so many golds in his participation in two world championships: stayed at twelve between Melbourne 2007 and Roma 2009.
Two years ago in Hungary, Dressel equaled Michael Phelps' record of seven golds in the same World Cup, including three in one night.
It does not exceed seven golds that Michael Phelps in Melbourne 2007
Dressel concludes his participation, with six gold and two silver, which beats the seven-gold record that Michael Phelps established at the 2007 Melbourne World Cups
"Every time I participate in a race, I always look at the bad, that's how I work. My start (in the 50 free) was very bad, I wish I could repeat it. There is much to improve, "said Dressel. "I think he had the full potential to drop from 21 (seconds). It was my best time, so I can't complain, but I know I can be faster"He added.
He achieved his first world record by beating Michael Phelps
The 22-year-old sprinter also achieved his first world record (in the 100 butterfly tie, 49s 50cs) and the two best times in history recorded in the 50 free meters (21s 04cs) and in the free 100 (46s 96cs).
The American team finished at the top of the medal standings with 27 medals, including 14 golds, while Australia was second with 19 medals and five golds.
The record: Phelps' eight Olympic golds
The record for medals in a world cup continues to be maintained by Michel Phelps with the eight golds achieved at the Beijing Olympic Games, a record that is not in danger of being equaled in Tokyo 2020, since neither the 50 butterfly nor the 4 × 100 free mixed will be Olympic distances.