FETRI competition calendar for 2023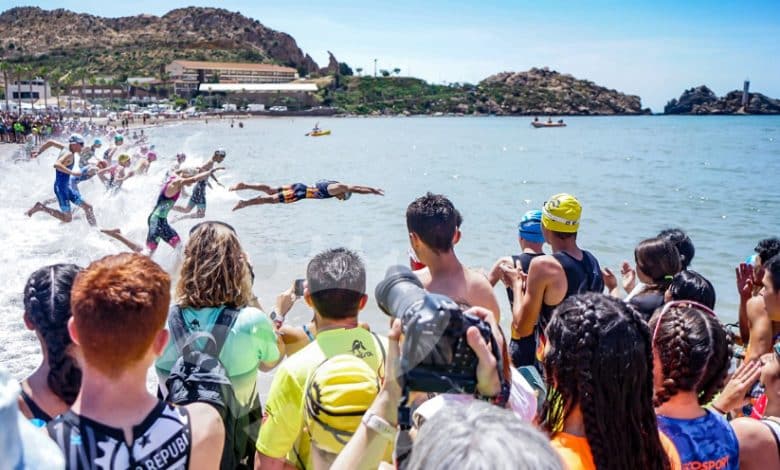 The Delegate Commission of the Spanish Triathlon Federation has FETRI competition calendar for the year 2023 with some news compared to last season.
El Spanish Duathlon Championship is separated into two days with two different venues.
The Spanish Championship of Duathlon Elite, sub 23, Paratriathlon and sprint and standard age groups will be held in Soria on the weekend of March 25 and 26.
While the cadets, youth, juniors and the Talent Relay will compete for the national duathlon titles in Alcobendas (Madrid) a week later.
The other great novelty for 2023 are the three venues that are incorporated into the calendar of Spanish Championships, Mérida, Salamanca y Albacete.
The Extremaduran city of Mérida will host the Spanish SuperSprint Triathlon Championships for Clubs and Relays / Couples and the Spanish SuperSprint Triathlon Championship for 2×2 Clubs, on the weekend of June 3 and 4.
For its part, Salamanca, which already hosted the Spanish Long Distance Championship in 2019, will be the venue in 2023 for the Spanish Medium Distance Triathlon Championships and the Spanish Aquabike Championship, on June 17.
And the Castilian La Mancha city of Albacete will be the location of the Spanish Duathlon Championships for clubs and the Spanish Duathlon Championship for Mixed Relays, on the weekend of March 11 and 12.
Spanish Sprint and Olympic Triathlon Championships and Queen Iberdola and King Cups
The two Spanish Triathlon championships, in sprint distance and Olympic distance, will be held in Águilas and Coruña respectively, and the Reina Iberdrola and Rey de Triathlon cups and the Spanish Relay Triathlon Championship in Roquetas de Mar.
El Sprint Triathlon Spain Championship in Águilas it will be the weekend of September 16 and 17, and the Spanish Olympic Distance Triathlon Championship in A Coruña on the weekend of June 10 and 11.
While the Iberdrola King and Queen Cups and the Spanish Relay Triathlon Championship will arrive at one of the Triathlon Cities, Roquetas de Mar, on the weekend of June 24 and 25.
FETRI 2023 Calendar
February 25, 2023 Spanish Duathlon SuperSprint Championship for Clubs and Relays / Pairs La Nucia
February 26, 2023 Spanish SuperSprint Duathlon Championship for Clubs 2×2 La Nucia
March 11, 2023 Spanish Duathlon Championship for Clubs Albacete
March 12, 2023 Spanish Duathlon Championship for Mixed Relay Albacete
March 25, 2023 Soria Duathlon Spanish Championship
March 26, 2023 Soria Duathlon Spanish Championship
April 1, 2023 Cadet / Youth / Junior Duathlon Spanish Championship Alcobendas
April 2, 2023 Spanish Duathlon Championship for Mixed Talent Relay Alcobendas
April 16, 2023 Avilés Team Time Trial Duathlon Spanish Championship
April 17, 2023 Spanish Duathlon Relay Championship Avilés
May 13, 2023 Platja d'Aro Long Distance Triathlon Spanish Championship
May 13, 2023 Platja d'Aro Middle Distance Triathlon Spanish Cup
May 14, 2023 Platja d'Aro Gravel Triathlon Spanish Championship
May 20, 2023 Pamplona Medium Distance Triathlon Spanish Cup
June 3, 2023 SuperSprint Triathlon Spanish Championship for Clubs and Relays / Couples Mérida
June 4, 2022 Spanish SuperSprint Triathlon Championship for Clubs 2×2 Mérida
June 10, 2023 Coruña Triathlon Spanish Championship (Olympic distance) Coruña
June 11, 2023 Coruña Triathlon Spanish Championship (Olympic distance) Coruña
June 17, 2023 Spanish Medium Distance Triathlon Championship and Aquabike Salamanca
June 24, 2023 Roquetas de Mar Triathlon King's Cup and Queen's Cup
June 25, 2023 Spanish Relay Triathlon Championship Roquetas de Mar
July 15, 2023 Cros Almazán Triathlon Spanish Championship
July 15, 2023 Almazán Aquathlon Spanish Championship
July 16, 2023 Cros Almazán Duathlon Spanish Championship
September 2, 2023 Spanish Triathlon Championship for Banyoles Clubs
September 3, 2023 Banyoles Mixed Relay Triathlon Spanish Championship
September 16, 2023 Spanish Sprint Aguilas Triathlon Championship
September 17, 2023 Spanish Sprint Aguilas Triathlon Championship
Only the following Spanish Championships would remain to be established and confirmed for the 2023 season, which will be announced shortly:
Middle Distance Duathlon
Winter Triathlon
Swim Run
School Triathlon and Autonomies
Learn More https://triatlon.org/