Andalusia 2022 triathlon calendar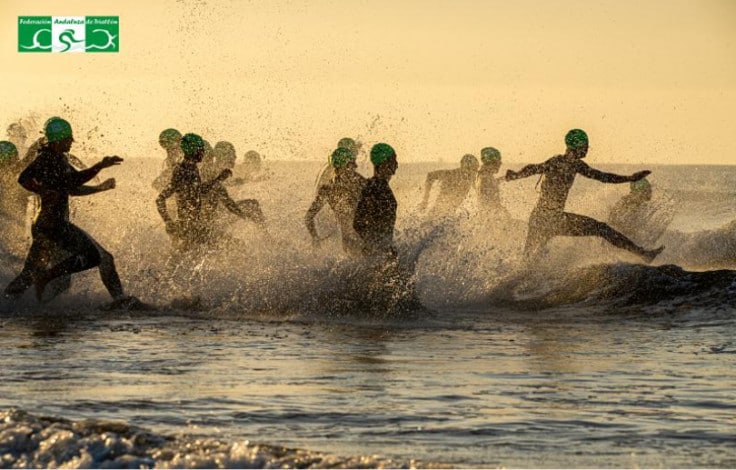 The Andalusian Triathlon Federation has published its competition calendar 2022 for the season.
The tests will begin in January and will continue until November where the season will end.
Below we have compiled all the triathlon and duathlon competitions that will be held in Andalusia in 2022.
This is the listing
Andalusia triathlon 2022 calendar
DATE
TEST
PROVINCE
Jan 30
II DUATHLÓN CUEVAS DEL ALMANZORA
ALMERIA
20 Feb
XXI DUATHLON CITY OF MARBELLA
MALAGA
20 Feb
XIV DUATHLON OF MINORS CITY OF MARBELLA
MALAGA
26 Feb
II DUATHLON BY TAGS / MIXED COUPLES CITY OF
GRANADA
GRANADA
27 Feb
III DUATHLON OF MINORS «CIUDAD DE TÍJOLA»
ALMERIA
Mar 05
XVIII DUATHLÓN VILLA DE HERRERA
SEVILLA
Mar 06
II DUATHLÓN CROS CASTRIL
GRANADA
Mar 06
I DUATHLON OF MINORS ALFAKIDS
CORDOBA
Mar 12
XVII DUATHLON THE VICTORY
CORDOBA
Mar 13
X DUATHLÓN CITY OF ALMERÍA
ALMERIA
Mar 13
IX DUATHLÓN CROS CITY OF TOMARES
SEVILLA
Mar 20
XXII DUATLÓN BEACHES OF PUNTA UMBRÍA
HUELVA
Mar 20
VII DUATHLÓN CROS «FRANCISCO RUIZ MONTALVO»
JAÉN
Mar 26
II DUATHLON OF MINORS OF ATARFE - CD
TRIBABYSCHOOL
GRANADA
Mar 27
V DUATHLON LA CARLOTA
CORDOBA
Mar 27
III JANDA Y SIERRA TRIATHLON
CADIZ
02-apr
VI DUATHLON OF MINORS ALAMILLO PARK
SEVILLA
02-apr
VIII DUATHLÓN ALDEAS DE ALMONASTER
HUELVA
03-apr
XXVIII DUATHLÓN CITY OF CHICLANA
CADIZ
03-apr
VI DUATHLÓN CROS VILLANUEVA DE LA REINA
JAÉN
03-apr
XXIX TRIATHLON TORRE DEL MAR - COSTA DEL SOL
MALAGA
23-apr
VIII DUATHLON OF MINORS «CIUDAD DE CHICLANA»
CADIZ
23-apr
IX NUTRISPORT HALF TRIATHLÓN DE SEVILLA
SEVILLA
23-apr
V DUATHLÓN CROS «CITY OF BOLLULLOS»
HUELVA
24-apr
I DUATHLON BY MIXED RELAYS CITY OF BAZA
GRANADA
May 07
IX CROS TRIATHLON «PLAYAS DE CHIPIONA»
CADIZ
May 08
II TRIATHLON «ZÚJAR CORAZÓN DEL GEOPARQUE»
GRANADA
May 08
XXI TRIATHLON BEACHES OF PUNTA UMBRÍA
HUELVA
May 15
IX BENALMÁDENA TRIATHLON
MALAGA
May 15
XXXV CHICLANA CITY TRIATHLON - V MEMORIAL
CARLOS SENA
CADIZ
May 15
XV TRIATHLON CITY OF ALMERÍA
ALMERIA
May 22
VII TRIATHLON UNIVERSITY OF GRANADA
GRANADA
May 22
XXV TRIATHLON OF SEVILLE
SEVILLA
May 28
V TRIATHLON OF LOS PEDROCHES
CORDOBA
May 29
XXIII TRIATHLON CITY OF MARBELLA
MALAGA
May 29
TRIATHLON FOR MINORS CITY OF MARBELLA
MALAGA
Jun 4
III TRIATHLON BARCELÓ MONTECASTILLO & CITY OF
JEREZ
CADIZ
Jun 4
VIII TRIATHLON ISLA CANELA
HUELVA
Jun 5
III CROS CASTELL DE FERRO TRIATHLON
GRANADA
Jun 11
VIII SAN ROQUE TRIATHLON
CADIZ
Jun 11
XXIV TRIATHLON CROS «MINAS DE LA REUNIÓN»
SEVILLA
Jun 12
AQUATHLON MALAGA
MALAGA
Jun 12
IX TRIATHLON REGION OF GUADIATO
CORDOBA
Jun 19
I TRIATHLON BY MIXED TAILINGS CITY OF
ANTEQUERA
MALAGA
Jun 19
I TRIATHLON CHAMOMILE
CADIZ
Jun 19
IV TRIATHLON OF MINORS CORIA DEL RÍO
SEVILLA
Jun 19
VII CITY OF GUADIX TRIATHLON - MEMORIAL «PEPE
ARIZA »
GRANADA
Jun 25
VI TRIATHLON «HUELVA, PORT OF DISCOVERY»
HUELVA
Jun 25
VI VILLA DE FERNÁN NÚÑEZ DUATHLON
CORDOBA
Jun 26
XXIV VILLA DE ESTEPONA TRIATHLON
MALAGA
Jul 2
IV TRIATHLON TIME TRIAL BY VILLARIAN TEAMS -CUEVAS DEL ALMANZORA
ALMERIA
Jul 3
II TRIATHLON CITY OF BAENA
CORDOBA
Jul 10
IV CROS TRIATHLON INDIVIDUAL TIME TRIAL VILLA DE
HERRERA
SEVILLA
Jul 10
IX SIERRA DE CAZORLA TRIATHLON
JAÉN
Jul 16
IV CROS VILLA DE CASTRIL TRIATHLON
GRANADA
Jul 17
IV TRIATHLON OF MINORS "CITY OF BAZA"
GRANADA
Jul 17
III ACUATHLON TIRABUZON CITY OF CÁDIZ
CADIZ
Jul 24
VIII AQUATHLON VILLA DE TORROX
MALAGA
Jul 24
IX SIERRA NEVADA TRIATHLON
GRANADA
Jul 31
XII TRIATHLON «VILA DEL AGUA»
JAÉN
Aug 14
XVI ACUATHLON «PLAYAS DE CHICLANA»
CADIZ
Aug 21
XIII CROS TRIATHLON «ARCOS LAND THAT INSPIRES»
CADIZ
Aug 21
XXIX TRIATHLON OF MINORS CALIFAS DE HIERRO
CORDOBA
Aug 28
VI CROS TRIATHLON «CITY OF ROQUETAS»
ALMERIA
Aug 28
X CALIMA POSADAS CHALLENGE
CORDOBA
Aug 28
XXXIII CALIFAS DE HIERRO TRIATHLON
CORDOBA
03-sep
V CROS SEXITANO TRIATHLON # 387 #
GRANADA
11-sep
XIII DUATHLÓN CROS VILLA DE LOS PALACIOS Y
VILLAFRANCA
SEVILLA
11-sep
II TRIATHLON CITY OF SAN FERNANDO
CADIZ
18-sep
VII DUATHLON CROS PORCUNA - LAND OF IBERS
JAÉN
18-sep
VIII TRIATHLON OF MINORS «CIUDAD DE CHICLANA»
CADIZ
24-sep
XII CROS TRIATHLON «CITY OF TÍJOLA»
ALMERIA
24-sep
VIII TRIHERCULES CÁDIZ
CADIZ
25-sep
VII TRIATHLON OF MINORS «CIUDAD DE TÍJOLA»
ALMERIA
25-sep
IV DUATHLON CROS DE MOGUER
HUELVA
01-oct
VII TRIATHLON RINCON DE LA VICTORIA
MALAGA
01-oct
X TRIATHLON CROS LA PUEBLA DEL RÍO «PUERTA DE
DOÑANA »
SEVILLA
01-oct
XIII ANDALUSIA CHALLENGE DOÑANA
CADIZ
02-oct
IV PUERTO SHERRY TRIATHLON
CADIZ
02-oct
V DUATLÓN CROS DE MINORES SANTA OLALLA DEL CALA
HUELVA
09-oct
II TRIATHLON «CITY OF VERA»
ALMERIA
09-oct
XVI DUATHLÓN CROS VILLA DE PERIANA
MALAGA
15-oct
DOUBLE TRIATHLON TREE BY HILTON ISLANTILLA BEACH
GOLF RESORT
HUELVA
16-oct
VI DUATHLON THE PEOPLE OF CAZALLA
SEVILLA
16-oct
X CABO DE GATA TRIATHLON - NÍJAR
ALMERIA
16-oct
I DUATHLÓN CROS DE MINORES «VILLA DE NAVAS»
JAÉN
23-oct
VI DUATHLON CITY OF ÁLORA
MALAGA
23-oct
XIV DUATHLÓN CROS MARMOLEJO SPA
JAÉN
29-oct
XIV DUATHLON CITY OF RONDA
MALAGA
Nov 06
IV DUATHLÓN CROS OF MINORS CITY OF TOMARES
SEVILLA
Nov 06
VII DUATHLÓN CROS «CITY OF ANDÚJAR»
JAÉN
Nov 12
IX DUATHLÓN CROS FOR MINORS «CIUDAD DE COÍN»
MALAGA
Nov 13
X DUATHLON CROS "BEACHES OF CHIPIONA"
CADIZ
Nov 20
DUATHLON MÁLAGA
MALAGA
Nov 20
IX DUATHLÓN CROS LAGUNA DE EL PORTIL
HUELVA
Nov 27
IV DUATHLÓN CROS DE MINORES SAN ROQUE
CADIZ
04-dec
VI DUATHLÓN CROS CITY OF ANTEQUERA
MALAGA
04-dec
VIII DUATHLÓN CROS «DOLMEN DE SOTO»
HUELVA
More information in https://www.triatlonandalucia.org/calendario-de-competiciones