Triathlon calendar Castilla la Mancha 2022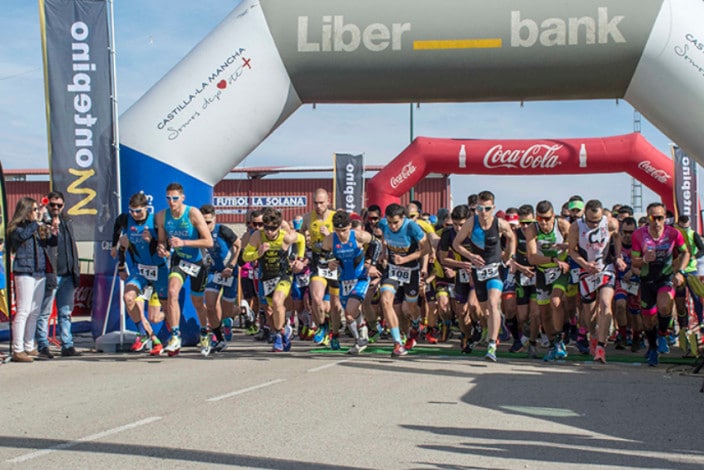 La Triathlon Federation of Castilla la Mancha has published the official competition calendar for the season to be played in 2022.
The tests will begin in February and will continue until November where the season will end.
In the following list we have compiled all the triathlon and duathlon competitions that will be held in Castilla la Mancha in 2022.
Triathlon and duathlon competition calendar Castilla la Mancha 2022
| | | |
| --- | --- | --- |
| Date | Competition | Location |
| 20-Feb | XIX Duathlon Cros Land of Giants 22 | Campo de Criptana (Ciudad Real) |
| 27-Feb | I Urban Duathlon Talavera de la Reina 22 | Talavera de la Reina |
| 6-mar. | II Duathlon of Hellín 22 | Hellin (Albacete) |
| 19-mar. | Junior Cadet and Junior Duathlon 22 Y minor categories | Campo de Criptana (Ciudad Real) |
| 20-mar. | XXX Duathlon City of Tomelloso 22- Regional Championship | Tomelloso (Ciudad Real) |
| 27-mar. | VI Urban Duathlon Ciudad Real 22 | Ciudad Real |
| Apr 3 | VIII Duathlon City of Almansa 22 | Almansa (Albacete) |
| Apr 24 | IX Duathlon Cross de Inheritance 22 - Regional Championship | Heritage (Ciudad Real) |
| May 7 | Duathlon Cros School Sports Osa de Montiel 22 | Bear of Montiel (Albacete) |
| May 7 | II Lagunas de Ruidera Triathlon 22 | Ruidera Lagoons (Albacete) |
| May 7 | Cuenca 22 School Sports Triathlon | Cuenca |
| May 14 | Aquathlon School Sports Guadalajara 22 | Guadalajara |
| May 15 | Aquathlon School Sports La Roda 22 | La Roda (Albacete) |
| May 21 | I Triathlon Paraje de Ruidera 22 | Ruidera Lagoons (Ciudad Real) |
| May 22 | Aquathlon School Sports Albacete 22 | Albacete |
| May 28 | Aquathlon in Sports at School Age Tomelloso 22 | Tomelloso (Ciudad Real) |
| May 28 | XX City of Guadalajara Triathlon 22 | Guadalajara |
| Jun 4 | Cross School Sport Triathlon - Tarancon 22 | Tarancon (Cuenca) |
| Jun 4 | Campo de Criptana 22 School Sports Aquathlon | Campo de Criptana (Ciudad Real) |
| Jun 11 | XIII Couple Triathlon 22 | Couple (Guadalajara) |
| Jun 12 | I Almansa Triathlon 22 | Almansa (Albacete) |
| Jun 18 | XXXII Triathlon Alcázar de San Juan 22 | Alcazar de San Juan (Ciudad Real) |
| Jun 19 | I Triathlon Time Trial Teams 22 | Alcazar de San Juan (Ciudad Real) |
| Jun 25 | VIII Triathlon Alcalá del Júcar 22 | Alcala del Jucar (Albacete) |
| Jul 2 | I Supersprint Triathlon La Roda 22 | La Roda (Albacete) |
| Jul 10 | IX Sprint and Olympic Triathlon of Cózar 22 | Cozar (Ciudad Real) |
| Jul 17 | II Land of Giants Supersprint Triathlon 22 | Campo de Criptana (Ciudad Real) |
| Jul 23 | X Triathlon Cros Caudete 22 - Regional Championship | Caudete (Albacete) |
| Jul 23 | XXVII Pálmaces Triathlon 22 | Palmes of Jadraque (Guadalajara) |
| 6-Aug. | XVIII Valle de Agramón Triathlon 22 - Regional Championship | Agramon (Albacete) |
| 13-Aug. | XXXIII Hoces de Cuenca Triathlon 22 -Regional Championship | Cuenca |
| 21-Aug. | II Aquathlon Land of Giants 22 | Campo de Criptana (Ciudad Real) |
| Sep 11 | VI Urban Triathlon of Ciudad Real 22 | Ciudad Real |
| Oct 16 | II Duathlon Cros De Cózar 22 | Cozar (Ciudad Real) |
| Oct 29 | III Duathlon Cros La Toconera - Villa de Caudete 22 | Caudete (Albacete) |
| Nov 6 | II Duathlon Tierra de Gigantes Teams - Regional Championship 22 | Campo de Criptana (Ciudad Real) |
| Nov 13 | XXII Duathlon Cros Alcázar de San Juan 22 | Alcazar de San Juan (Ciudad Real) |
| Nov 19 | II Duathlon Cros La Peñica de San Pedro 22 | San Pedro (Albacete) |
More information in https://www.triatlonclm.org/competiciones/todas/2022