Ecotrimad date and distance change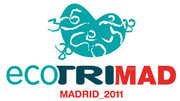 According to the Spanish Triathlon Federation, Ecotrimad is one day early.
Now the 14 / 05 / 2010 will be disputed in the locality BUITRAGO DE LOZOYA (MADRID).
The distances to travel are the following:
1,9 km Swimming
76 km Bicycle
21km Race
Communiqué of the Ecotrimad:
Dear Triathletes:
Ecotrimad has decided to vary the swimming and running distance due to numerous factors. One of them is the new regulation that the FETRI wants to announce in which there will be a Cto. of E...Spaña de Media Distancia and one of Long Distance with more common distances to the medium and long distance formats. The new distances are 1900 - 76 - 21 and it becomes on May 14 at 13:00 p.m. The bike or race circuit is not modified at all, as well as the prizes and other parallel activities. We believe that this change will be to the liking of triathletes for many reasons.In addition, work is beginning on a great final party.