Camila Alonso and Adrián Sáez win the Autonomous Sprint Triathlon Championship of Valencia
The UA Triathlon team wins all the places on the women's absolute podium.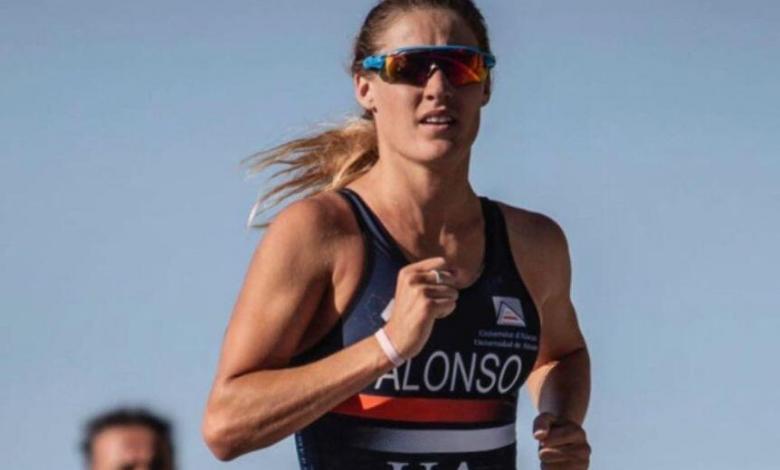 The city of València dawned with rain but the sun finally came out on the expected day, that of the celebration of the Triathlon World Cup.
Prior to the World Cup, the triathletes of the Valencian Community have been able to enjoy the CAutonomous Championship of Sprint Triathlon and Paratriathlon.
The competition was delayed by the first rains and the triathletes left shortly before 10 am. The dock of La Marina de València saw them jump in batches of 2 every 10 ″.
This rolling start It has been implemented in current competitions to respect the demanding COVID-19 prevention protocol.
Until the end of the competition, we cannot know the winners as each participant completes the test without practically having references.
However, the first to take the start correspond to the best positions in the regional sprint ranking of last year as well as the regional Olympic 2020 ranking.
The women's absolute podium corresponds to the UA Triathlon.
The team from the University of Alicante got the first 3 places thanks to the triathletes Camila Alonso, first in the classification and regional champion in sprint distance, while the second and third position has been for her teammates Sara alemany y Yaiza Saiz.
The female top 5 was completed with Sara royo of the Castellón Triathlon and Roser Verdevio CEA Bétera.
The male Regional Champion has been Adrián Sáez.
Once again, the University of Alicante climbing to the top thanks to a spectacular career by Adrián, closely followed by Guillem Segura from CT Arena Alicante, which was only 34 ″ away from the first position.
The 3rd position went to Alex Vanaclocha del Tripuçol, which approached the time of Segura from which it was barely 14 ″ separated.
The top 5 of the event were completed by Alejandro Torres from the UA Triathlon and Pau González Espressati from La 208 Triathlon Club.
Josep Miquel Moya, General Director of Sports of the Generalitat Valenciana, presented the trophies to the absolute winners of the Autonomous Communities, accompanied by Vanessa Huesa, President of the Federació de Triatló de la Comunitat Valenciana, and Eduardo Part, member of the Board of Directors of the LBS.
Classifications www.triatlocv.org/results/