CEA Bétera and Alusigma Peñota Dental win the SuperSprint Clubs 2×2 title in La Nucía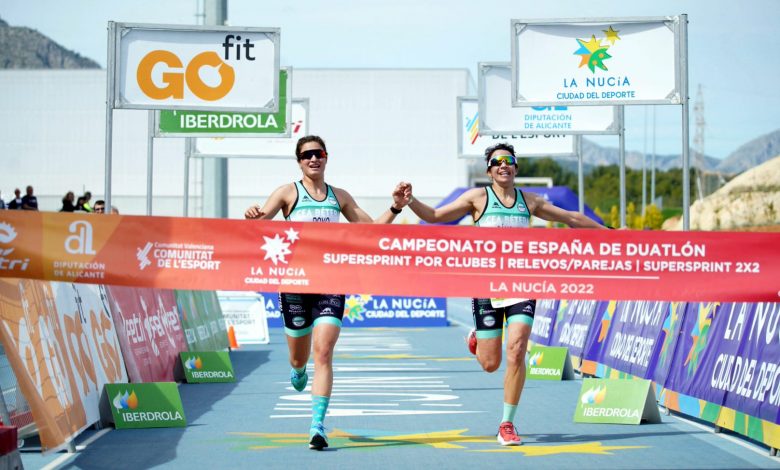 La National League of Duathlon Clubs began in "La Nucía Ciudad del Deporte" with three exciting days that have left a very clear winning team in the Women's First Division, the Valencian team of CEA Bétera which prevailed in all three, winning three titles.
The last one was that of Sunday morning, in the race of SuperSprint for Clubs 2×2, in which they reached gold just as they had done on Saturday in the national SuperSprint for Clubs and Relay Couples competitions.
Nothing to do with the men's category, in which each day of the First Division had a different club as champion, scoring the SuperSprint title for Clubs 2×2 andl Alusigma Penota Dental Portugalekoa.
The tests, organized by the Spanish Triathlon Federation with the collaboration of the La Nucía City Council, the Alicante Provincial Council and the Trinidad Alfonso Foundation, within the Support Program for Competitions in the Valencian Community (PAC CV), had as their main center the Estadi Olimpic Camilo Cano, with a large audience in the stands.
great race of CEA Bétera to get the treble, dominating from start to finish Imps of Rivas, who got the money, and Cidade de Lugo Fluvial, who scored the bronze.
In the Women's Second Division, the Galician team Inforhouse Santiago was proclaimed champion, with silver for the Soriano Triathlon and bronze for Tritrain4you Málaga. Finally, in the Women's Open category, the title went to the women of Resistentia T3.
Here at the Men's First Division the SuperSprint by Clubs 2×2 gave birth to a new champion of the weekend after the victories in the first two days on Saturday by Saltoki and Diablillos.
On Sunday morning, the first absolute national title for clubs in the First Division arrived for the Alusigma Penota Dental Portugaletekoa, in a very disputed test with Marlins Triathlon Madrid, silver, and Imps of Rivas, bronze.
In the Second Division, the first position was achieved by Tri Infinity Móstoles, followed by Katoa Barcelona and Murcia Unidata. In the Men's Open category, La 208 Triathlon Club, Archena Industrias TEQ and Resistentia T3 rose to the podium.
Vanessa Huesa, president of the Triathlon Federation of the Valencian Community, and Sergio Villalba, Councilor for Sports of "La Nucía Ciudad del Deporte", and also City of the FETRI Triathlon, presented the trophies and medals of the day.
The National League of Duathlon Clubs will continue in two weeks in Valladolid, with the two-day dispute, the Spanish Championships of Duathlon for Clubs, and Duathlon for Mixed Relays.
Full rankings are available here!.