Salamanca will host the Spanish Triathlon and Aquabike MD 2023 Championship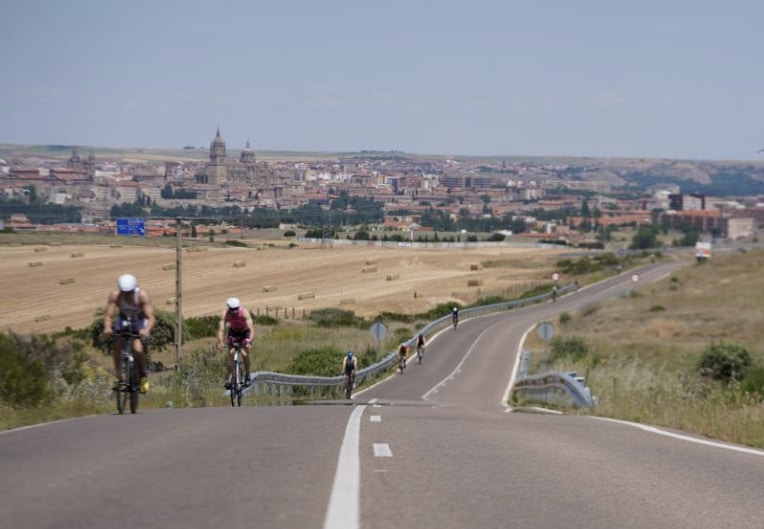 El Spanish Triathlon and Aquabike Media Distance Championship 2023 will take place in Salamanca, a city that has already hosted other championships such as Long Distance in 2019.
This time it will be held next Saturday, June 17.
The athletes will swim in the Tormes River, with a lap of 1.900 meters, followed by 90 kilometers of cycling in two laps, and a final 20 kilometers of running along the river promenade and the Roman Bridge, an incomparable setting.
The goal of the competition will be located on the Tormes Athletics Tracks.
Promotion of Sport and Tourism in Salamanca
The Mayor of Salamanca, Carlos García Carbayo, affirmed that this type of sporting event "consolidate and project the city's sports brand nationally and internationally".
In addition, he highlightedthe great sporting talent that is born and meets here to compete, as well as the great tourist offer and quality" offered by Salamanca, a World Heritage City.
Championship schedules
The Medium Distance Triathlon of Salamanca It is part of the Spanish Cup of Triathlon MD and LD.
After the third appointment in Salamanca, there will be three more scoring events, the Bilbao Triathlon on September 30, the Challenge Paguera Mallorca, on October 14, and the Ibiza Half Triathlon, on October 22.
The elite tests of the Spanish Triathlon and Aquabike MD Championship will begin at 15:15 p.m. for the male category and 05:XNUMX p.m. for the feminine.
At 17:07 p.m. the Paratriathlon will start, and from 15:10 p.m. the Age Groups. The departure to the national Aquabike GGEE will take place at 15:20 p.m.
Spanish Championship Triathlon MD 2022
In 2022, Helene Alberdi y Fernando Zorrilla they conquered the titles of Spanish champions of Media Distancia Triathlon in the test held at the Half Triathlon Pamplona.
Judith Corachán and Laura Gómez completed the elite female MD national podium, while Antonio Benito and Eneko Llanos they accompanied Zorrilla in the men's.
Open enrollment
The registration period for the Spanish Triathlon and Aquabike MD Salamanca 2023 Championship closes on May 29.