The Personal Running Triathlon Campus is here! From the 12 to the 17 of February!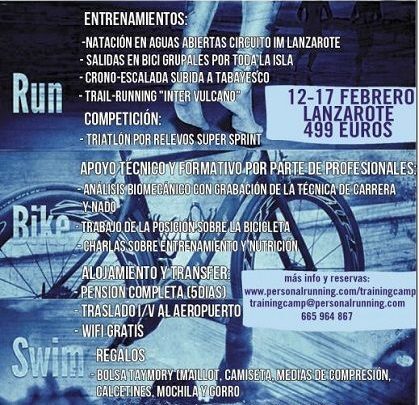 A campus designed to achieve a goal above the rest: to ensure that all participants of all levels enjoy our sport under exceptional conditions in a true paradise.
To achieve this goal, the camps will have authentic quality collaborations that will be added to the master class that coaches will direct Personal Running, among which is the international triathlete Dani Rodríguez. The campus will have a theoretical and practical character where there will be time for everything: training, training and having fun.
Among the collaborators is the biomechanical studies company Fit4bike y Fit4swim that will make available to attendees their knowledge of biomechanics in the three disciplines and through which each athlete will have the opportunity to return from the island with the knowledge and knowledge enough to work on their mistakes and thus get more out of their workouts . All of this is carried out by highly qualified professionals with high experience in the triathlon world such as Pedro De Arriba or the Olympic triathlete Omar Tayara.
We will also have the support of Taymory and Keepgoing, who will enrich the stay with their gift packages of sports equipment and supplementation products.
Among the highlights of the campus, we could highlight:
Group bike outings for all levels throughout the island.
Swimming with support boat on the IM Lanzarote circuit.
Filming and analysis of the technique.
Biomechanical support of the position on the bicycle.
Super Sprint relay competition in the vicinity of Sands Beach.
Crono climbing to the mythical port of Tabayesco.
Trail Running with climb to several emblematic volcanoes.
Talks / discussion on training and nutrition.
All this, under the exclusive conditions that the Resort Sands Beach Active where each athlete can enjoy accommodation on a full board basis in triple apartments in the area for athletes, where at the same time they will coexist with the elite of all nationalities.
The price per athlete are 499 euros.
The price per companion, only the stay in full board are 349 euros.
SIGN UP NOW trainingcamp@personalrunning.com
More info by calling the 665 964 867 and on the Campus website: www.personalrunning.com/trainingcamp