Triathlon campus for young people from 14 to 19 years old
It will be held in Lozoya, in the Sierra Norte de Madrid,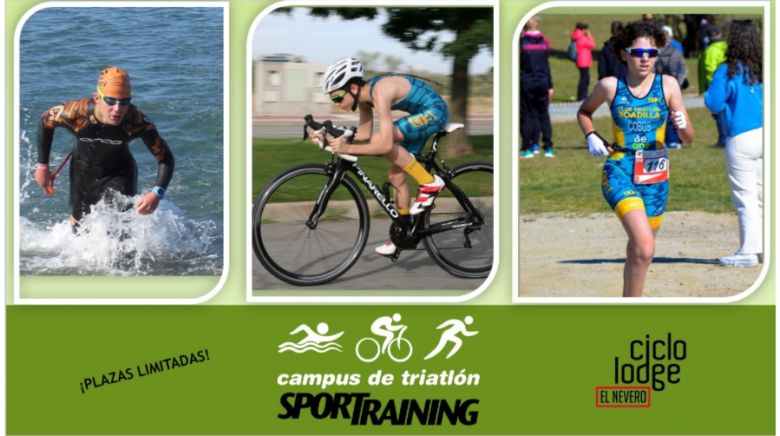 Between July 11 and 16, the I SPORTRAINING TRIATHLON CAMPUS.
This campus is aimed at boys and girls between 14 and 19 years old, in an idyllic place in the mountains of Madrid to practice this sport.
Throughout six enriching days, participants will enjoy a campus oriented to learning and training, in an unforgettable experience.
Hosted in Cycle Lodge El Nevero, a new concept of accommodation specially designed for athletes.
It is located in the town of Lozoya, in the Sierra Norte de Madrid, next to the Lozoya reservoir; It has beautiful themed apartments, each with two double rooms, restaurant, gym, spa, bike boxes, conference room and many extras that will make the participants' stay very special.
Campus contents:
Swimming workouts.
Road cycling workouts.
Mountain biking workouts.
Race training.
Transition workouts.
Video-analysis of the race.
Swimming video-analysis.
Bicycle optimization (bikefitting).
Theoretical / practical talks on: nutrition, bicycle mechanics, sports planning, preparation for competition.
Leisure activities: paddle surfing and canoeing, rope park, hiking, excursions, cinema ...
Campus objectives:
Optimize individual swimming technique to perform better in open water.
Optimize position and technique on the bicycle according to the characteristics of the competition.
Strengthen skills and confidence on the bike.
Analyze individual technique in the race to optimize it.
Improve transitions.
"Learn to train": understand the basics of planning.
Learn the basics of nutrition for an athlete.
Strengthen good healthy habits, as well as "clean" sports and companionship.