Campus Triathlon StageTri Graus'11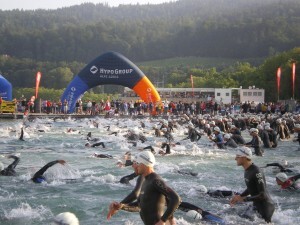 From the 3 to the 7 of August in Graus (Huesca)
Pirineo en Ruta organizes the first triathlon Campus "StageTri Graus´11", five days in the privileged environment offered by Graus where the Spanish Triathlon Championships were already held in 98 and 99.
With Lake Barasona as the epicenter of all its activities, Pirineo en Ruta will set the tone for the program to follow, where swimming, running and cycling will delight those athletes regardless of their physical condition who want to start or improve their physical level and technician in a sport with more and more followers such as triathlon.
The activities and technical conferences will deal with open water swimming, biomechanics, functional testing, running technique, proprioception work, injury prevention, etc. as well as the possibility of testing new materials, profile wheels, power meters or wetsuits all this and much more with professionals in the sector such as Luis Manzano (Triathlete, Lic.CAF and Technical Director of Mayencos Triathlon) the former professional cyclists Sergio Pérez and David Cañada or Raúl Villacampa also member of the Technical Staff of Pirineo en Ruta who achieved a difficult challenge "From chemo to IRONMAN".
Family and friends can also enjoy a few days of vacation, do different activities such as trekking, mountain biking, canoeing, skysurf, kayak or simply
Relax next to Lake Barasona.
More info at:
www.pirineoenruta.com