The half marathon of Paris is canceled by the Coronavirus
Another new event has been forced to cancel due to the spread of the virus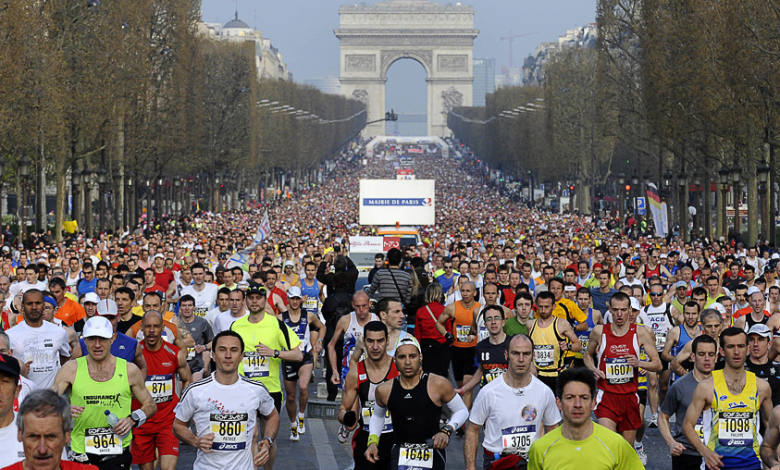 El coronavirus continues to force states to take exceptional measures to avoid contagion.
Although France has decreed limit closed events of 5.000 people, He has also chosen to suspend the Paris half marathon, which was held this Sunday.
The organizers have announced that the event is delayed and that "as soon as possible" will give a new date at 44.000 participants.
Official announcement: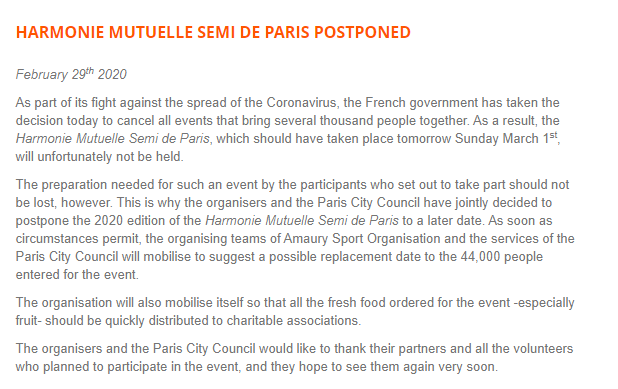 Until Saturday, France had registered a total of 73 cases, an increase from 57 on Friday.
Among those, 59 people are hospitalized, two have died and 12 have recovered, said the minister
In Europe measures are being taken to limit agglomerations
According to the newspaper the era of digital economics.In the last hours, Switzerland and France have adopted concrete measures to limit crowds, forcing the organizers of the Geneva Motor Show to suspend the edition.
Spain currently does not take action
Spain, for the moment, has not taken a step in this direction, but does not rule out adopting measures of this type if necessary.
Soon we will have several mass events in Spain in the world of athletics such as the Barcelona marathon, the Madrid half marathon and the Madrid marathon.
"Canceling the Tokyo 2020 Olympics would be very risky"
Mirabaud Securities analysts insist on the significant economic impact that this would have and on the exceptional, since a celebration of this type has never been suspended except during periods of war.
"Ttaking into account that the Olympic Games have never been canceled or postponed for any reason other than war, to suspend them now due to a virus would be a measure without historical precedent.
«In this sense, we consider that betting on a cancellation of the Olympic Games in Tokyo 2020 it would be very risky.
The games in Rio remained despite the Zika virus
It should not be forgotten that the 2010 Vancouver Winter Games went ahead although they coincided over time with an influenza pandemic, as happened in 2016 when the Rio de Janeiro Olympiad remained despite the epidemic generated by the virus of Zika
Further information: https://www.harmoniemutuellesemideparis.com/fr/