Everything ready in Cartagena for the Spanish Sprint Triathlon and Inclusive Triathlon Championships at the Water Games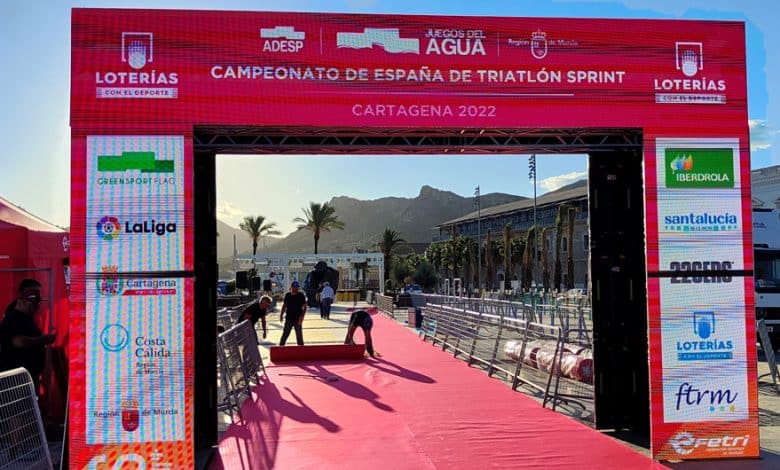 The Spanish Triathlon Federation puts into play today and tomorrow in Cartagena the last national titles of the year, corresponding to Sprint distance triathlon.
These championships will be played within the framework of the Water Games, a sporting event organized by ADESP, the Spanish Sports Association, and 10 national Sports Federations, and for which they have been competing 19 Spanish championships of different modalities related to the sea and water in the Region of Murcia from September 22.
The Water Games also have the badge Green Sport Flag thanks to the sustainability commitment maintained by FETRI and the rest of the Federations.
The Spanish Triathlon championships in Sprint distance, in which Lottery jerseys will be delivered again, will be distributed over two days, Saturday 1 and Sunday 2 October,
Schedule
At 16:45 p.m. The Women's Elite race will be held, and at 19:XNUMX p.m. the Male Elite test.
Distances
In all cases over distances of 750 meters swimming, 20 kilometers cycling and 5 kilometers running.
On Sunday, October 2, the Spanish Sprint Distance Triathlon Championships for Age Groups, with the same distances as the elite on the previous day, will begin at 9:30 a.m.
Where to follow it live?
The results can be followed live here: https://www.fetrilive.es/calendar
First Spanish Inclusive Triathlon Championship
The Inclusive Triathlon nationals will premiere at 12:30 p.m. on Sunday, October 2, in a mixed relay format in SuperSprint distances.
Pairs made up of a paratriathlete and a triathlete will participate, both performing a double SuperSprint triathlon with 150 meters of swimming, 4 kilometers of cycling and 1 kilometer of running in each race.