Triathlon News
Almost 1.000 triathletes will compete in the MD Salamanca Triathlon and LD Spain Championship
Almost a thousand triathletes will compete in Salamanca on Sunday 30 in June, with the Spanish LD Triathlon Championship at stake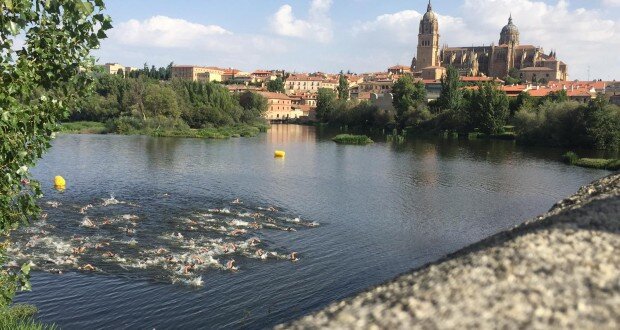 About a thousand athletes will meet on Sunday 30 June in Salamanca to dispute the Spanish Long Distance Triathlon Championship and the tests of Middle distance, distance Olympic y Aquabike.
In addition to national titles, the Iberian championship with the participation of Portuguese triathletes. Ninety percent of the more 300 registered in the long distance championship of the Spanish Triathlon Federation comes from autonomous communities other than Castilla y León, a percentage that is around seventy percent of the total of more than 900 participants . The test also forms part of the Spanish Cup of Triathlon MD and LD.
Among the favorites stand out Cesc Godoy, Pello Osoro in male category and Helele Alberdi o Cristina Rosello among other participants
El Triathlon Media Distancia of Salamanca, With no titles at stake like the three races parallel to the Spanish Championship, there will be more than 280 participants and a few 1'5 kilometers of swimming, 80 kilometers of cycling and 20'5 kilometers of running races.
More than 250 triathletes will tackle the challenge of Olympic distance, on 1'5 km. of swimming, 40 kilometers of cycling and a final race of 10'25 kilometers. 60 athletes will participate in the new Aquabike format to cover 3 kilometers of swimming and 120 km. in the cycling segment.
The environment of the New Church of the Arrabal will be the stage of the expo and delivery of numbers, on Saturday 29 in June starting at 12 h. The technical meeting for athletes will be held on the same day, at 19 h, at the Río Tormes Sports Center.
On 30 Sunday in June, starting at 8 h, with the departure of the Olympic distance test, the main activity will be transferred first to the Enrique Estevan bridge and the Tormes river, and then to the roads of the cycling and walking segment fluvial, which will be the protagonist in the race on foot.
At 8: 30 h. will start the competition in Media Distancia, and 9 h. the Spanish Triathlon LD Championship. The elite awards ceremony is scheduled at 16 h. in the surroundings of the New Church of the Arrabal, and that of Age Groups on the 19: 15 h.
Further information: https://www.triatlonmediadistanciasalamanca.es
List of departures: https://bit.ly/2QiQwSN
Source: FETRI