Triathlon News
Catalonia wins the Championship of Absolute Autonomous Selections in Tres Cantos
The victory was decided in an exciting sprint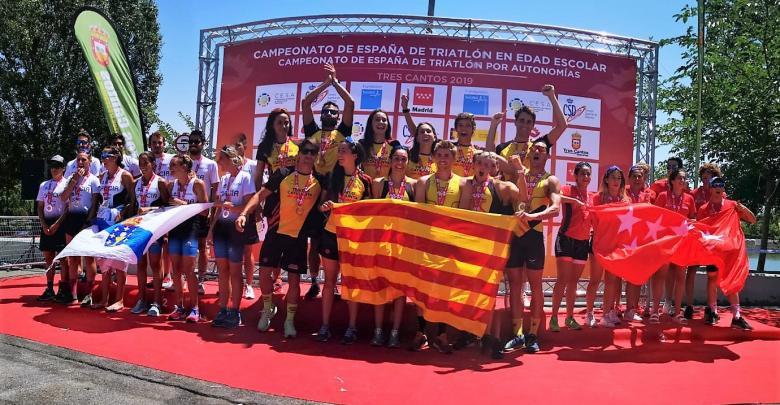 The selection of Galicia was imposed in the overall of the Spanish Championship of School Age Triathlon by autonomies after the dispute of the second day of competition, in which the mixed relay events took place both for the school category and for the absolute one. The national by Autonomías as far as the absolute selections are concerned it was awarded Catalonia.
The two relays, both the school and the absolute, won the teams of Catalonia, but in the case of the first category the second place served Galicia, along with the results of Saturday, to take the title.
The first race on Sunday was the Mixed School Relay, with Catalan victory ahead of Galicia and the Valencian Community. Andalucía and Madrid completed the first five positions.
In the overall championship with the sum of the two days Galicia was made with the school title by a single point of difference with respect to Catalonia. The same difference, a point, defined the third place on the podium in favor of the Valencian Community against Andalusia, with Madrid in the fifth position.
El Absolute Mixed Relay by regional selections was one of the greatest shows that the new Olympic modality in Tokyo 2020 So far in Spain.
After successive changes of leaders in the exchanges of the first relays with Catalonia, Comunidad Valenciana, Baleares and Galicia opting for everything, the final race was presented passionateand with Jordi García for the Catalans and Romaric Forqués by the Valencians coming out together from swimming, arriving together to the race on foot, and defining in a sprint almost photo finish the competition in favor of García. Balearics, Galicia y Madrid They completed the first five positions.
The sum of points on Saturday and Sunday left Catalonia as champion among the regional selections absolute, with Galicia in the silver medal, Madrid getting the bronze, and the Valencian Community and Castilla La Mancha completing the first five positions.
They participated in the delivery of prizes to the regional selections Conchi Bellorín, Director of the Cabinet of the Superior Council of Sports; Alberto Jofre, General Director of the Paralympic Committee; Iñaki Ereño, President of Sanitas; Montserrat Teba, Councilor for Sports of Tres Cantos; José Hidalgo, President of the Spanish Triathlon Federation; and Ramiro Lahera, President of the Madrid Triathlon Federation.
Classifications: https://bit.ly/2S7g5I0
You may also be interested in this