Triathlon News
Catalonia leads the national triathlon by absolute autonomy
Tres Cantos is hosting the Spanish Championship for autonomies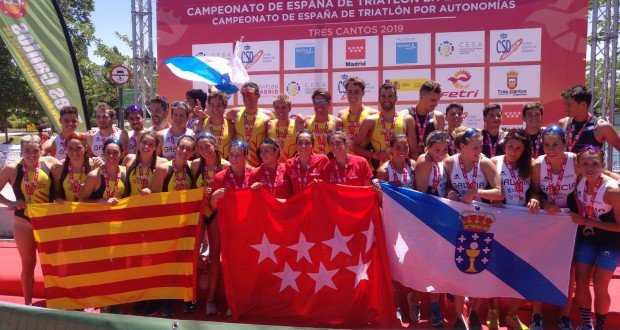 The first day of the Spanish Triathlon Championship by Autonomous Communities, held in Tres Cantos, Madrid, recorded the victories of the absolute female teams of Madrid and masculine Catalonia, as well as the individual triumphs in School Age of Elsa Pena, representing Galicia, and Igor Bellido, representing Andalusia.
Looking ahead to Sunday, July 7, in which, in addition to the Inclusive Relay, the Sanitas Foundation will competeSpain ampeonatos of Mixed School and Absolute Relay by autonomy, in the absolute category the sum of the points of men and women places Catalonia as the leader of the absolute classification, while Galicia is the leader in School Age.
The classifications can be found here: https://bit.ly/2S7g5I0
The absolute feminine selection of the Region of Madrid, made of Cecilia Santamaría, Sara Bonilla, Irenal Arenal, Paula García Godino, Alba Álvarez y Laura Rodríguez, was the one that accumulated the most points in the race followed by Catalonia, with Laura Gómez Ramón, winner of the individual race, and Galicia.
In the male category it was Catalonia who took the gold with the scores of Genís Grau, Jordi García, Guillem Montiel, Aleix Domenech, Cesc Godoy y Albert Parreño. Galicia was classified in second position and Castilla La Mancha in third. In the individual race it was imposed Javier Lluch, by the Valencian Community, fourth classified of the general.
Facing the mixed relay of the day on Sunday, Catalonia would ensure the overall championship being ahead of Galicia and Madrid.
The selection of the Galician federation to aspire to the title should be two places ahead of Catalonia and at least one ahead of Madrid, while the Madrid Triathlon Federation team should rank three places ahead of the Catalonia team, and one ahead of Madrid.