Cecilia Santamaría fourth in the European Cup in Melilla.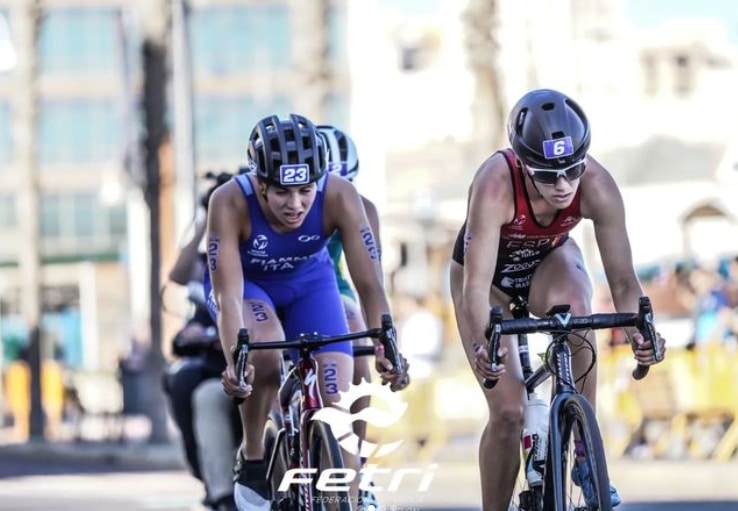 Today the Triathlon European Cup where the victory in the female category went to Emma Jackson from Australia.
Jackson recorded a time of 00:57:34, followed by the Swiss alissa conig with a time of 00:57:47 and for Nora Gmu with 00: 58: 05.
As for the Spanish representation, Cecilia Santamaria was the best classified, finishing in fourth place with a time of 00:58:16.
Natalie Castro, Maria Casals y Paula from the Well ended up in the Top 10 with the sixth, seventh and tenth place respectively.
The race was held under the sprint format with 750 meters of swimming, 20 kilometers of cycling and 5 kilometers of running.
Top 10 female
| | | | |
| --- | --- | --- | --- |
| Position | Name | Time | Country |
| 1 | Emma Jackson | 00:57:34 | AUS |
| 2 | alissa conig | 00:57:47 | SUI |
| 3 | Nora gmür | 00:58:05 | SUI |
| 4 | Cecilia Santamaria Surroca | 00:58:16 | ESP |
| 5 | anouk sterkers | 00:58:46 | FRA |
| 6 | Natalia Castro-Santos | 00:58:55 | ESP |
| 7 | Maria Casals Mojica | 00:59:09 | ESP |
| 8 | Kaidi Kivioja | 00:59:14 | EST |
| 9 | Myral Greco | 00:59:16 | ITA |
| 10 | Paula Del Pozo Drunkard | 00:59:25 | ESP |
Results of the Spanish
This is the list of the Spanish women in the test
| | | |
| --- | --- | --- |
| Pos | Name | Time |
| 4 | Cecilia Santamaria Surroca | 00:58:16 |
| 6 | Natalia Castro-Santos | 00:58:55 |
| 7 | Maria Casals Mojica | 00:59:09 |
| 10 | Paula Del Pozo Drunkard | 00:59:25 |
| 12 | Iratxe Arenal Arribas | 00:59:38 |
| 17 | Elsa Pena Vincent | 00:59:56 |
| 19 | Sofia Aguayo Mauri | 01:00:06 |
| 20 | Maria Alzaga Criado | 01:00:20 |
| 25 | Paula Sanchez Garcia | 01:01:22 |
| 30 | Sara Alemany Seguer | 01:02:16 |
| 33 | Sara Melitta Gimena Schümmelfeder | 01:03:35 |
| 34 | Marina Munoz Hernando | 01:03:41 |
| 37 | Claudia Samitier Andrew | 01:05:01 |
| 38 | Lucia Acosta Suarez | 01:05:28 |
| DNF | Maria Teresa Jimenez-Orta Guerrero | DNF |