Cecilia Santamaría second in the Coimbra European Cup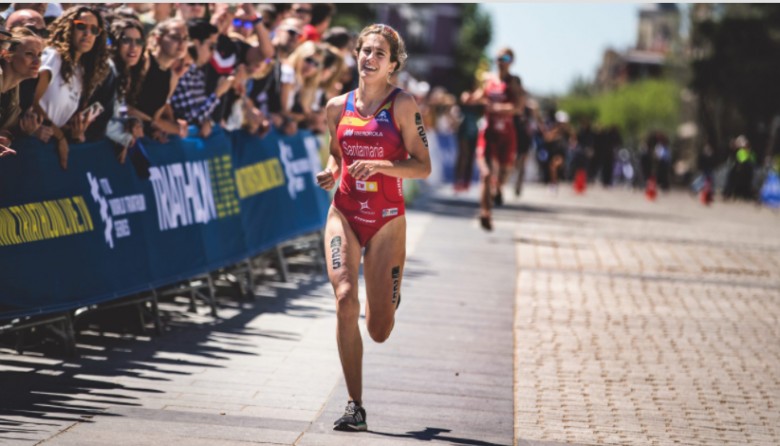 Today the Triathlon European Cup de Coimbra where 13 Spanish women have participated.
The test that has been contested on sprint distance began at 11 in the morning.
The winner of the test has been Sophia green followed by Cecilia Santamaria and by Melanie Santos in third place.
As for the Spanish, this has been the classification
| | | |
| --- | --- | --- |
| ATHLETE FIRST | ATHLETE LAST | POSITION |
| Cecilia | Santamaria Surroca | 2 |
| Would go | Rodriguez | 5 |
| Sofia | Aguayo Mauri | 6 |
| Tamara | Gomez Garrido | 12 |
| Iratxe | Arenal Arribas | 15 |
| Noelia | Juan | 18 |
| Pillar | Garcia Llorena placeholder image | 21 |
| Laura | Rodriguez Salinas | 24 |
| Paula | Sanchez Garcia | 28 |
| Sonia | Ruiz Melguizo | 31 |
| Andrea | Cernuda Herraiz | 37 |
| Marta | Reguero Gonzalez | 41 |
| Natalia | Hidalgo Martinez | 42 |
Top 10 female
| | | |
| --- | --- | --- |
| Sophia | Green | 00:56:43 |
| Cecilia | Santamaria Surroca | 00:56:57 |
| Melanie | Santos | 00:56:59 |
| Maria | Take | 00:57:01 |
| Would go | Rodriguez | 00:57:04 |
| Sofia | Aguayo Mauri | 00:57:08 |
| Holly | Elliott | 00:57:09 |
| Ursula | Trützschler | 00:57:12 |
| Bianca | Seregni | 00:57:24 |
| Roksana | Slupek | 00:57:35 |
In the men's event that started at 12, the victory went to Basque Vilaça followed by Ricardo Batista and by Christophe De Keyser in third position
See this post on Instagram
As for the Spanish, this has been the classification
| | | |
| --- | --- | --- |
| ATHLETE FIRST | ATHLETE LAST | POSITION |
| Sergio | Baxter cabrera | 6 |
| Ander | Noain Lacamara | 9 |
| James | rodado gonzalez | 29 |
| George | Gonzalez Marino | 48 |
| Fernando | Uceda pear tree | 52 |
| Andrew | Cendan Llorens | 59 |
| Daniel | Pla | 60 |
Men's 10 Top
| | | |
| --- | --- | --- |
| ATHLETE FIRST | ATHLETE LAST | TOTAL TIME |
| Vasco | Vilaca | 00:50:44 |
| Ricardo | Batiste Polka Dots | 00:50:50 |
| Christophe | By Keyser | 00:51:02 |
| John | Bird | 00:51:12 |
| Tyler | Smith | 00:51:19 |
| Sergio | Baxter cabrera | 00:51:21 |
| Michele | Bortolamedi | 00:51:22 |
| Miguel | Tiago Silva | 00:51:26 |
| Ander | Noain Lacamara | 00:51:28 |
Official results