Cesc Godoy and Nuria Blanco champions of Andorra Triathlon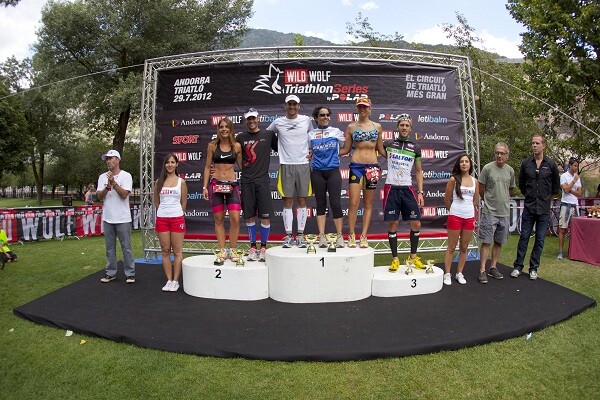 The Catalan Cesc Godoy (CN Barcelona) wins the first edition of the Andorra Triathlon with a time of 1h59'15 ", followed by Xavi Llobet (Club Trialtó Passatge) at just 1'22". And Jordi Vila (Independent) completing the podium with a time of 2h04'55 ".
After Madrid, Castellón and Barcelona, ​​the great triathlon party has invaded the Central Park of Andorra this weekend. The celebration began yesterday with the collection of numbers and the leaving of the bikes in the pit area next to Engolasters Lake. But the great show took place this morning, when at 07.15h the first coach with the triathletes competing in the Olympic distance started, until all the participants were transferred to the lake, at 1.700m high. At 9.30 am, the Olympic distance started first, and the sprint distance a posteriori, with differentiated starts between men, women and relays.
Quickly, Cesc Godoy and Xavi Llobet were at the forefront of swimming, continuing like this until the end of the test: "We have been very even in the swimming section, but I managed to get out of the water beforehand and start the bike section first. Xavi is also very strong in cycling and I couldn't get lost at any time. But in the running race, I realized that I was 30-40 seconds ahead and I was able to go calmer. The fact of sharing a coach and being all together waiting at the start has created a closer bond between the triplets, creating a very pleasant atmosphere. Being able to compete in this environment has been spectacular and I hope that we can continue to enjoy it in the future ", says Cesc Godoy.
In the Olympic distance of the women's category, Madrid's Nuria Blanco won, finishing in 2h24'55 "with a wide difference compared to the second triathlete, Bárbara Giner (SAC Triatló) who arrived 15 minutes later, followed from Aida Pintó (CN Manresa) just 9 seconds away.
"The truth is that I did not expect it because due to an injury I have not trained for two months. Thanks to the help of a colleague, I was able to continue the test because I had some problems with the bike's pedals. I have done a regular race, although the climb to the Comella was very hard, I was able to maintain a good pace also in the foot race. In addition, we are not used to competing in such a beautiful landscape ", Nuria commented as soon as she received the first prize.
The great reception that this first edition has had, makes the organization prepare next year's edition with a clear objective, to expand the number of participants to be able to offer more athletes the possibility of enjoying this experience, unique for its journey so special.
After this spectacular weekend, the WILD WOLF Triathlon Series by Polar will make its last test in A Coruña on September 2, with a forecast of 700 participants.
Men's Olympic Distance Results:
1- Cesc Godoy (CN Barcelona) / 01:59:15
2- Xavi Llobet (Club Triatló Passatge) / 02:00:37
3- Jordi Vila (Independent) / 02:04:55
Women's Olympic Distance Results:
1- Nuria Blanco (CTOA) / 02:24:55
2- Bárbara Giner (SAC Triatló) / 02:39:42
3- Aida Pintó (CN Manresa) / 02:39:51
Sprint Male Distance Results:
1- Rodrigo García (Trischool Cuenca) / 01:01:40
2- Albert Soley (JB Trialtó Granollers) / 01:02:53
3- Blai Sánchez (CN Mataró) / 01:03:00
Female Sprint Distance Results:
1- Anna Saura (Atlètic Ribagorçana) / 01:17:43
2- Esther Vidal (Atlètic Ribagorçana) / 01:24:52
3- Mireia Rodríguez (Monbike & Run) / 01:25:15
Olympic Distance Relay Results:
1- CUBE TEAM / 02:10:16
2- CyT / 02:10:26
3- Badia Triatló Club / 02:32:11
Results Distance Sprint Relay:
1- Maccabi of Levantar / 01:18:07
2- Els voluntaris / 01:21:11
3- Terremotodelbueno.com / 01:23:29
Andorra has experienced one of the most important sporting moments of the summer.
For more information www.triathlonseries.org