Challenge Davos suspended due to a storm
The torrential rains turned into a severe storm and there were fears for the safety of the athletes.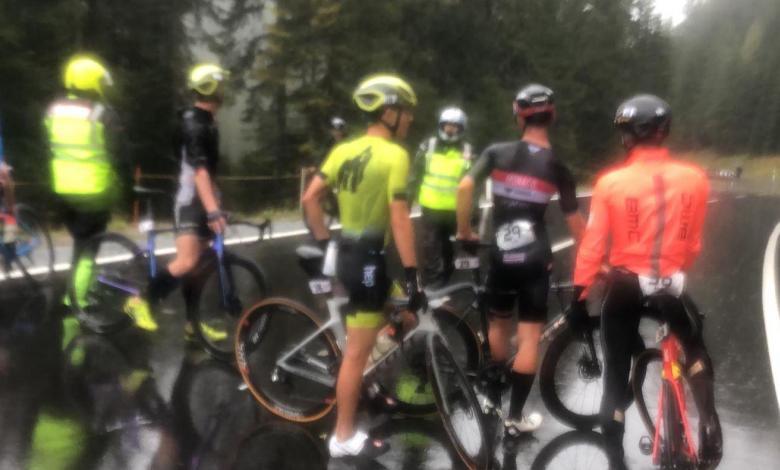 Today one of the few international tests that has allowed Covid-19 has been disputed, Challenge Davos, but with the bad luck that the organization has been forced to suspend it due to bad weather conditions
Shortly after the race will start and with only 2 kilometers of cycling segment, the torrential rains turned into a strong storm and there were fears for the safety of the athletes.
The disappointment among the athletes has been enormous, but at the same time they fully understood the decision that the CHALLENGE Davos organization had just made
Age Groups could not even start the test
Hard blow for the age groups since they did not even have the opportunity to start the test.
The organization received from the triathletes the best gesture they could have, they met as a group and gave them a deafening and long applause.
«It goes without saying how much this means to us, "explains CHALLENGE FAMILY CEO Jort Vlam.
It is wonderful to see athletes recognize and reward that with such a beautiful gesture, despite this great disappointment for them too. Unfortunately, no one controls the weather and this was the only correct decision ».
Professionals also disappointed
Of course, also the professionals, all eager to compete in such a level event, were also disappointed.
The women had just come out of the water, when the male leaders had to turn around after approximately 1,5 km through the Flüela pass.
Sebastian Kienle, who was in a tenth position at the time, returned with a smile on his face, assuming what had happened.
Last year's cattle Pieter Heemeryck, that he was one minute ahead of Kienle, he was also disappointed, but also understood that this was the only correct decision.
The first Challenge Family test in 2020
Challenge Davos (Switzerland) has been the first test of the Challenge Family 2020 calendar, with a large presence of professionals and 600 participants in total
Further information: https://www.challenge-family.com/