Cidade de Lugo Fluvial wins the Spanish Women's and Men's Relay Triathlon Championships in Águilas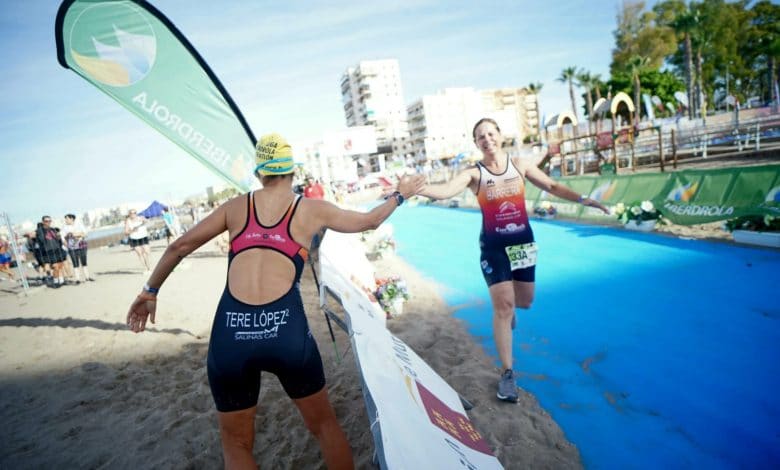 the Galician club Cidade de Lugo Fluvial both scored Spanish Triathlon Relay Championships, female and male, in the Elite category, with brilliant performances by their teams on the fifth day of the National Club League and the Iberdrola Triathlon League, held in Águilas.
The next two and last days of the leagues will be played on June 18 and 19 in A Coruña.
The women's team Cidade de Lugo Fluvial, forming a relay with María Casals, Cecilia Santamaría and Elsa Pena, prevailed with a time of 54:50 by five seconds over Saltoki Trikideak, culminating Paula Pozo in a long-suffering comeback for the Navarrese.
Right behind and sprinting with Imps from Rivas el Naró Nauticaln achieved third place and bronze.
In the women's Open category, the Soriano Triathlon Relay prevailed, with a time of 1:01:07, over teams from CEA Bétera and Real Club Mediterráneo.
The male relay Cidade de Lugo Fluvial He also achieved gold and the national championship in a close fight with his main rivals until the last post, alternating between them in harassment or leadership during the test.
Jeremy Quindos, Antonio Benito and Antonio Serrat achieved victory with a time of 48:43, ahead of Isbilya Sloppy Joe's y Imps from Rivas.
The Men's Open relay had the ISD Huracán Puerto Sagunto team as champion, with a time of 51:00, ahead of Diablillos de Rivas and Soriano Triathlon.
Spanish Triathlon Talent Relay Championship
The women's Valladolid E-Triathlon, with a time of 59:02, won the Spanish Triathlon Championship for Talent Relay, penultimate day of the National League of Triathlon Talent Clubs.
The second elite position was for Diablillos de Rivas, and the third for Náutico de Narón. In the Open Women's Talent Relay category, the victory went to Saltoki Trikideak, with a time of 1:03:23, ahead of Villa de Valdemoro Triathlon and Club Natació Barcelona.
The national Triathlon by Men's Talent Relay was won by the Diablillos de Rivas team, with a time of 52:09, ahead of Montilla Córdoba Triathlon and Prat Triatló 1994.
The Men's Talent Relay Open category was also awarded to Diablillos de Rivas, in this case ahead of Don Benito Triathlon and Murcia Unidata.
Trophies and medals were handed out on the day by Cristóbal Casado, Councilor for Sports of the Águilas City Council; Diego Calvo, president of the Murcia Region Triathlon Federation; and José Hidalgo, president of the Spanish Triathlon Federation.